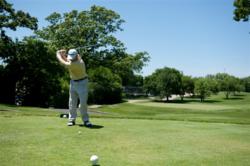 This golf tournament is truly first-class.
Palatine, IL (PRWEB) July 26, 2012
On Aug. 13 golfers will join together at the 49th Annual Little City Invitational (LCI) Golf Tournament at Twin Orchard Country Club in Long Grove to support children and adults with autism and other intellectual and developmental disabilities.
Openings for individual players and foursomes are still available for this prestigious event. Guests will enjoy 18-holes of golf, followed by a cocktail reception, lavish dinner, musical entertainment, silent and live auctions featuring opportunities to play at exclusive golf clubs and an awards ceremony.
"This golf tournament is truly first-class," stated Little City Board of Advisor and LCI Chair Marcus Montanye. "I've been involved with this tournament for the past 12 years and I can proudly say the golf experience is incredible; this year will be no exception."
Each year the LCI tournament honors an outstanding friend and supporter of Little City in memory of Morrie Kellman, founding member and creator of the Invitational Golf Tournament. This August, LCI is proud to present Kenneth L. Ender, Ph.D., President of Harper College with the Morrie Kellman Humanitarian Award.
Dr. Ender is positioning Harper to become a leading 21st century community college by increasing graduation, transfer and certificate completion rates and aligning Harper's curriculum with high schools while training students for new economy jobs.
"LCI remains the largest fundraising opportunity for children and adults with disabilities at Little City and I sincerely hope we achieve a record participation so we can deliver for them," concluded Montanye.
Individual golf tickets are $750 per golfer or $3,000 per foursome. Tickets for dinner only are also available for $150 per seat. Numerous sponsorship opportunities are available for companies interested in supporting the event. All proceeds benefit children and adults with intellectual and developmental disabilities at Little City.
For more information and to register visit littlecity.org/lci or call Phyllis Shipbaugh at (847) 221-7892.
To support individuals with autism and other intellectual and developmental disabilities, visit http://www.littlecity.org/support.
For complete information, visit http://www.littlecity.org or contact Sally Blake at sblake(at)littlecity(dot)org or 847-221-7831.
###
About Little City Foundation
For more than 50 years, Little City Foundation has developed innovative and personalized programs to fully assist and empower children and adults with autism and other intellectual and developmental disabilities. With a commitment to attaining a greater quality of life for Illinois' most vulnerable citizens, Little City actively promotes choice, person-centered planning and a holistic approach to health and wellness. Little City's ChildBridge Services include in-home personal and family supports, clinical and behavior intervention, 24/7 residential services and special needs foster care and adoption. Little City's LifePath Adult Services offers a variety of residential options, employment opportunities, home-based services, case management, day supports, Special Olympics, an award-winning Center for the Arts and more. The organization has a 56-acre campus in Palatine and offices in Chicago. Visit http://www.littlecity.org.