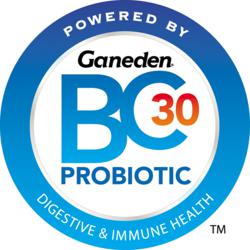 What better way to get your probiotics than in something that's your favorite food– pizza.
Cleveland, OH (PRWEB) July 26, 2012
Ganeden Biotech®, a recognized world leader in the manufacturing and marketing of probiotics, and Frozen Naked Pizza, a forward thinking company that sees prepared food as part of a solution to the diet-related epidemics of obesity and chronic disease, have partnered to include Ganeden's industry leading probiotic, GanedenBC30®, in the entire Frozen Naked Pizza product line.
"What better way to get your probiotics than in something that's your favorite food– pizza," said Anne Zilvitis, Vice President Marketing, Frozen Naked Pizza. "At Frozen Naked Pizza, we have made it our mission to improve the foods that you love without compromising the taste. We view it as our responsibility to help make food better for our customers. And adding the probiotic, GanedenBC30, helps make that possible."
Given the need to freeze and then bake Frozen Naked Pizza, the product line requires a probiotic that is able to withstand extreme temperature changes without compromising the integrity and full benefit and delivery of the probiotic.
"GanedenBC30 can withstand all that," said Zilvitis. "And Ganeden has so much research and testing to back up their product that we're confident we chose the right probiotic for our pizza. GanedenBC30 delivers more active cultures than yogurt ."
Driven to develop solutions that are safe and effective for humans and animals, Ganeden Biotech has performed numerous clinical and research studies on GanedenBC30. Demonstrating substantial immune and digestive health benefits, GanedenBC30 fully supports Ganeden's "improving quality of life" mission.
"The two companies are very much in alignment with one another in regards to their mission: to make the foods you're already eating healthier," said Mike Bush, Vice President of Business Development, Ganeden Biotech. "It's an exciting time in the world of probiotics – they're not just in yogurt anymore."
Frozen Naked Pizza has all of the same nutritional and taste profiles and benefits as the take-out, Naked Pizza; it's just frozen.
"Frozen Naked Pizza has captured a lot of attention from consumers since its launch in October 2011 and its increased availability across the western United States," said Zilvitis.
Frozen Naked Pizza crust is made from an Ancestral Blend® of 10 grains and seeds plus agave fiber and beneficial bacteria GanedenBC30 (like the ones found in yogurt) for digestive balance. The grains used include oats, brown rice, buckwheat, quinoa, amaranth, teff, spelt, tapioca, and two kinds of wheat. This diversity of grains and fiber are the main reason for that satisfied feeling you get after eating Frozen Naked Pizza, contrast that with most other pizzas' highly processed single grain crust.
With seven veggies total, Frozen Naked Pizza is calling their Superbiotic™ Pizza the superhero of its flavors, both because of its delicious flavors and because of its toppings and ingredients. It can be found regionally in retail locations such as Bristol Farms and Sunflower, in the all-natural frozen foods aisle. To find a Frozen Naked Pizza retailer near you go to http://www.frozennaked.com/where-to-get-frozen-naked/.
About GanedenBC30
GanedenBC30 (Bacillus coagulans GBI-30, 6086), manufactured by Ganeden Biotech, is a patented natural probiotic, or good bacteria, that research has shown to support the immune and digestive systems.
While most strains of good bacteria need to be delivered in capsule form, Ganeden's probiotic delivery system is different—it's an ingredient, consumed in a variety of foods and beverages such as breads, muffins, nutrition bars, yogurt, protein powder, and chocolate.
GanedenBC30 is a high-survivability probiotic. It has a naturally occurring layer of organic material that protects the genetic core of the bacteria. This protective layer provides the probiotic the ability to survive extreme temperatures involved in food and beverage manufacturing processes, shelf life, stomach acids and intestinal bile. Other probiotics, such as Lactobacillus and Bifidobacterium, are unable to form this protective layer, making them more vulnerable to manufacturing conditions.
###
About Frozen Naked Pizza
In partnership with national franchisor Naked Pizza, Frozen Naked Pizza brings a radically different pizza to the supermarket aisle, using a crust made from a diversity of grains, agave fiber, and healthful bacteria in the crust as well as all-natural toppings and 100% premium mozzarella. Frozen Naked Pizza charges forward with the same mission to use prepared food as part of a solution to the diet-related epidemics of obesity and chronic disease. The Frozen Naked Pizza product line is available in select grocery stores in the western U.S. http://www.frozennaked.com.
About Ganeden Biotech
Founded in 1997, Cleveland, Ohio based Ganeden Biotech is at the forefront of probiotic research and product development. Ganeden has an extensive library of published studies and more than 100 patents for probiotic technologies for the food, beverage, animal health, and now topical ingredients markets. The company is best known for GanedenBC30®, its patented, probiotic ingredient, which is found in more than 50 leading food and beverage products. Ganeden helps manufacturers develop and market probiotic products and offers an extensive intellectual property portfolio with patent and trademark protection for an array of technologies all over the world.
For more information about Ganeden Biotech and licensing opportunities visit ganedenlabs.com.