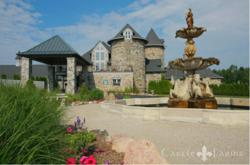 Charlevoix, Michigan (PRWEB) July 27, 2012
Castle Farms, the historic property featured in the soon-to-be released book "For The Love Of A Castle", is set to host the 2012 Fiber Arts Festival in Charlevoix, Michigan on Saturday, July 28 (10 am-5 pm) and Sunday, July 29 (10 am-4 pm). The French Renaissance-style setting will be the backdrop for 50 vendors showcasing their wares. Demonstrations of sheep dogs at work and sheep-shearing presentations will serve to educate and entertain.
Livestock such as sheep and alpaca will walk the grounds of The Castle, which is listed on state and national historic registries.
Learn more about the Fiber Arts Festival and Castle Farms by visiting the newly updated Castle Farms website at http://www.castlefarms.com. More photos, better navigation, and a design to reflect the romantic beauty of the property have made the site an easy-to-navigate artistic pleasure.
Castle Farms, also known as one of the most popular Michigan wedding destinations, was built in 1918 by Albert Loeb, an executive with Sears Roebuck Company, who envisioned a working model dairy farm to showcase farm equipment sold in the Sears catalog. To bring home the history of this storied place, pre-order the soft cover 96-page book "For the Love Of A Castle", available online or at the Castle Farms Gift Shop.