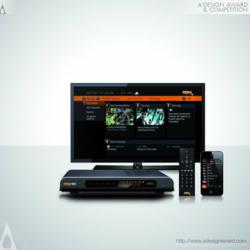 Como, Italy (PRWEB) July 26, 2012
A' Award and Competitions are happy to share that the design Stargazr by Wesley Ng won the famous Golden A' Design Award at Interface and Interaction Design Competition selected as the winner by the respected jury members of the A' Design Awards & Competitions amidst thousands of participants.
Insights on Stargazr
Wesley Ng, the designer of the winning work Stargazr explains "Stargazr is a portal for program listings, on-demand videos, interactive services. To streamline the interactive TV experience, the remote control is redesigned with less buttons for improved usability. Users can discover programs and on-demand videos according to their preferences quickly and easily, with the simple yet powerful Program Search function. Texts onscreen are crisply displayed in optimal legibility and readability, non-restricted to screen size nor resolution." To learn more visit: http://www.adesignaward.com/design.php?ID=23801
Design Team for Stargazr
Stargazr was made by Senior VP — Belinda Chan, Assistant VP, Product Development — Keith Huang, Principal Designer — Wesley Ng and Interactive Designers — Jerry Ng, Susan Pang, Wong Siu-kit, Damien Foo
The Golden A' Design Award
The Golden A' Design Award is a prestigious award given to top 3% percentile designs that has delivered an exemplary level of perfection in design. The designs are judged by a panel of three different jury which is composed of Academic, Professional and Focus Group Members. The designs are evaluated with score normalization to remove any biases and are voted on aspects such as functionality, ergonomics, engineering, presentation, innovation, usability, fun details, technology, and any other specific points that could be considered, each of these points are further weighted for different jury groups.
About A' Design Award and Competitions
A'Design Award and Competitions, aims to highlight the excellent qualifications of best designs, design concepts and design oriented products. A' Design Award and Competitions are organized and awarded annually and internationally in multiple categories to reach a wide, design-oriented audience. Learn more: http://www.whatisadesignaward.com