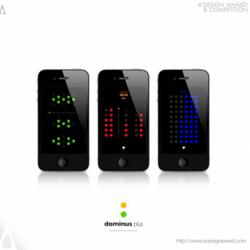 Como, Italy (PRWEB) July 26, 2012
A' Award and Competitions are encouraged to announce that the work Dominus Plus by Albert Salamon, Lukasz Grzejek, Lukasz Hostynski and Robert Hnatyk won the prestigious Silver A' Design Award in Interface and Interaction Design Category picked as the winner by the respected jurors of the A' Design Awards & Competitions within a great number of nominations.
Details of Dominus Plus
Albert Salamon, the creative mind behind the winning project Dominus Plus explains "Dominus plus expresses time in an original way. Like dots on dominoe pieces three groups of dots represent: hours, tens of minutes and minutes. The time of day can be read from the color of the dots: green for AM; yellow for PM. The application contains a timer, an alarm clock and chimes. All functions are navigable by touching discrete corner dots. It is had an original and artistic design presenting the actual 21st century Face of Time. It is designed in a beautiful symbiosis with Apple portable devices' cases. It has a simple interface with only a few necessary words to operate it." Learn more and download high-resolution photos at: http://www.adesignaward.com/design.php?ID=24042
Team Members for Dominus Plus
Dominus Plus was made by Albert Salamon, Lukasz Grzejek, Lukasz Hostynski and Robert Hnatyk
The Silver A' Design Award
The Silver A' Design Award is a prestigious award given to top 5% percentile designs that has attained an exemplary level of sublimity in design. The designs are judged by a panel of three different jury which is composed of Academic, Professional and Focus Group Members. The designs are evaluated with score normalization to remove any biases and are voted on aspects such as functionality, ergonomics, engineering, presentation, innovation, usability, fun details, technology, and any other specific points that could be considered, each of these points are further weighted for different jury groups.
About A' Design Award and Competitions
A'Design Award and Competitions, aims to highlight the excellent qualifications of best designs, design concepts and design oriented products. A' Design Award and Competitions are organized and awarded annually and internationally in multiple categories to reach a wide, design-oriented audience. Learn more: http://www.whatisadesignaward.com