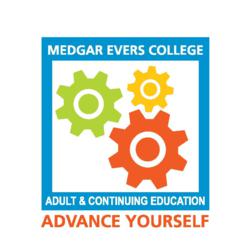 "Technical Communication and Social Media Communication are key skills for today's professionals," says Continuing Education Director Jonathan Bissell."
Brooklyn, NY (PRWEB) July 27, 2012
Adult and Continuing Education (ACE) at Medgar Evers College of the City University of New York (CUNY) is pleased to announce the start of its online Technical and Social Media Communication Certificate programs, which can be taken anytime, anywhere, 24-hours a day, seven-days per week.
Continuing Education is working in collaboration with McMurrey-Brockmann Educational Resources, LLC, to bring Technical and Social Media Communication Certificate Programs to students throughout the world via an up-to-date, online-based learning system. The online certificate programs are comprised of courses that feature one-on-one instructional assistance as well as recorded online, state-of-the-art audio-visual tutorials. Currently, there are seven certificates offered: Technical Communication Essentials; Online Information for Blogs, the Web, and Help; Technical Publishing; Technical Communication Career Start-Up; Social Media Fundamentals; Social Media Intermediate; and Social Media Advanced.
Each certificate consists of three, four or five courses, and each course is about eight weeks long with direct student–teacher interaction. Courses can be taken individually, concurrently or can be selected "à la carte" from any certificate. Read details about the courses offered by McMurrey-Brockmann Educational Resources, LLC, on their website at: https://mcbrock.com.
Courses can start as soon as tuition payment is received through the online payment system at http://www.mcbrock.com. Course assignments, schedules and resources are available via an online, customized user interface. Course highlights include document format, desktop publishing systems, online help, blogs, editing, indexing, web pages and sites, search engine optimization (SEO), emerging social media technology, and of course, good clear concise writing style. Courses feature applications and standards such as WordPress, Adobe FrameMaker, Adobe InDesign, Facebook, Twitter, LinkedIn, Goggle+, Adobe RoboHelp, Microsoft Word, Microsoft Visio, Adobe Photoshop, Adobe Dreamweaver, XHTML, HTML5, CSS2, CSS3.
"The expertise of the faculty teaching these programs is outstanding," says ACE Director Jonathan Bissell, "and through engagement with these professionals, students will gain instant access to the knowledge and experience needed to accelerate their careers."
In addition to authoring textbooks on their respective subjects, course instructors have worked for IBM and National Instruments, Tivoli, and Dell, either full time or contractually. Instructor David A. McMurrey is department chair for the Business & Technical Communications program at Austin Community College and has spent seventeen years developing and teaching online courses. He is the author of several technical writing textbooks. Instructor Jill Brockmann is an expert in graphic design and social media tools and strategies and is on the faculty at Austin Community College. Brockmann has co-authored a textbook and created social media degree and certificate programs for such entities as Austin Community College and the Texas Association of Nonprofit Organizations. Instructor Amanda Crocker has a long career of technical writing, is a faculty member at Austin Community College and is a former employee of National Instruments.
For Technical Communication questions, please contact David McMurrey at dmz(at)McBrock(dot)com or by telephone at 512.476.8691. For Social Media Communication questions, please contact Jill Brockmann at Jill(at)McBrock(dot)com or by telephone at 512.906.2960.
About Medgar Evers College, CUNY
Medgar Evers College was founded in 1970 through the efforts of educators and community leaders in central Brooklyn. The College is named after Medgar Wiley Evers, a Mississippi-born black civil rights activist who was assassinated on June 12, 1963. The College is divided into four schools: The School of Business; The School of Professional and Community Development; The School of Liberal Arts and Education; and The School of Science, Health, and Technology. Through these Schools, the College offers 29 associate and baccalaureate degree programs, as well as certificate programs in fields such as English, Nursing, and Accounting. Medgar Evers College also operates several co-curricular and external programs and associated centers such as the Male Development and Empowerment Center, the Center for Women's Development, the Center for Black Literature, and The DuBois Bunche Center for Public Policy.