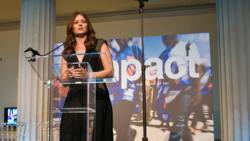 Turning the tide is only possible if we devote our minds, resources and support—collectively—to the global AIDS response. This year's Impact Awards celebrate a distinguished group of men and women who have helped make progress possible. - Debra Messing
Washington, DC (PRWEB) July 26, 2012
On Wednesday evening, Actress and PSI Ambassador Debra Messing presented the 2012 Impact Awards at a private ceremony during the AIDS 2012 Conference. Co-hosted with HRH Crown Princess Mette-Marit of Norway at the Corcoran Gallery of Art, the event honored individuals from the fields of science, government, business, media, and individual endeavor for their leadership in the global HIV and AIDS response.
"Turning the tide is only possible if we devote our minds, resources and support—collectively—to the global AIDS response," said Messing. "This year's Impact Awards celebrate a distinguished group of men and women who have helped make progress possible."
Recipients of the Impact Award are decided by the editors of Impact Magazine, the flagship publication of PSI (Population Services International) – a global health organization. The 2012 inaugural ceremony honored seven individuals:
Dr. Bertran Auvert – pioneer in research on voluntary medical male circumcision, which has been shown to reduce female-to-male HIV transmission by as much as 60%.
Ron Zwanziger - CEO of Alere, the world's largest manufacturer of HIV testing technology and purveyor of the Make Positive More Positive Campaign to reduce stigma and discrimination.
John Donnelly – journalist and editor who has spent 15 years reporting on global health and HIV/AIDS for the Boston Globe, the Miami Herald, the Associated Press, and the GlobalPost.
Blessing Chebundo – first of 60 Zimbabwe parliamentarians who undertook voluntary male circumcision this year, signaling its role in the prevention of HIV transmission.
Congressman Jim McDermott (D-WA) - career-long advocate for HIV work, first beginning as a physician in the Congo during the peak of the epidemic; recent co-founder and co-chair of the Congressional HIV/AIDS Caucus.
Senator John Boozman (R-AR) - strong supporter and leader for U.S. global health and development investments; first senator to join the now bicameral and bipartisan Congressional HIV/AIDS Caucus.
Democratic Leader Nancy Pelosi (D-CA) - Member of the House of Representatives who has served the state of California for 25 years and is now the House Democratic Leader. From her first day on Capitol Hill she has been a steadfast leader in Congress for HIV/AIDS work domestically and abroad.
Released at the awards ceremony, the latest issue of Impact underscores the importance of a combined approach to HIV and AIDS by addressing the issue of prevention from the various angles that cause its spread. The issue presents interviews with leading HIV thought leaders and implementers, as well as personal stories from men and women living with HIV. Interviews include Impact Award winner Ron Zwanziger, Senator John Boozman (R-AR), Representative Jim McDermott (D-WA), Representative Barbara Lee (D-CA), Dr. Daniel Halperin and Craig Timberg, authors of the new book "Tinderbox: How the West Sparked the AIDS Epidemic and How the World Can Finally Overcome It," and PSI technical experts.
"By packaging HIV and AIDS prevention methods—male and female condoms, voluntary medical male circumcision, voluntary counseling and testing, anti-stigma and discrimination programs, and use of anti-retrovirals—we offer tailored solutions based on individual needs," said Karl Hofmann, PSI President and CEO. "In doing so, we put the ultimate goal of an AIDS-free generation within reach."
###
PSI is a global health organization dedicated to improving the health of people in the developing world by focusing on serious challenges like a lack of family planning, HIV/AIDS, barriers to maternal health, and the greatest threats to children under five, including malaria, diarrhea, pneumonia and malnutrition. http://www.psi.org/