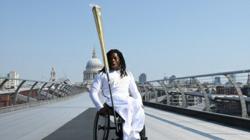 Samsung has offered an inspiring opportunity to people around the world to carry the Olympic Flame, as part of our ambition to make London 2012 Everyone's Olympic Games.
(PRWEB) July 26, 2012
• On Thursday 26 July the Relay will travel 32.70 miles

173 Torchbearers will carry the Flame
Evening celebration to take place in Hyde Park
Images from today can be downloaded here
On Thursday 26 July, the London 2012 Olympic Torch Relay – presented by Coca-Cola, Lloyds TSB and Samsung – will travel 32.70 miles through the London Boroughs of Camden, Islington, City of London, Southwark, Lambeth, Wandsworth, Hammersmith and Fulham, Kensington and Chelsea and Westminster.
Highlights for today include:
London Borough of Camden
6.48am – The Roundhouse: Team GB's deputy Chef de Mission, Clive Woodward, will start the last day of the road based relay from the Roundhouse in Camden. He coached the England team from 1997 to 2004, managing them to victory in the 2003 Rugby World Cup. He is currently the British Olympic Association's Director of Elite Performance and currently helping Team GB has been an inspiration to British athletes and the sporting community. He has tasked himself with uniting Team GB so they feel a greater part of a team, especially as it will be a home Olympics.
7.14am – Regents Canal: Paris Walker, 16, from Bethnal Green, will carry the Flame along the Regent's Canal on board a canal boat. Paris was nominated through the Coca Cola campaign for her dedication and commitment to running in the local area.
7.37am – St. Pancras Station: Luke Corduner,32, from Camden will carry the Flame in front of the Olympic rings in St. Pancras Station. Luke was nominated through the LOCOG campaign for being a great PE teacher who devotes many hours after the school day to coaching football, tennis, table tennis, helping out with clubs and running a sports camp during the holidays. He was also nominated for the work he does with young people who are expelled from school or who are young offenders.
London Borough of Islington
08.24am – Islington Town Hall: David Walliams will carry the Flame in recognition for his remarkable contribution to sport. His awe-inspiring cross-Channel swim in 2006 secured him a Sports Personality of the Year award. In 2008 he swam across the Strait of Gibraltar. Then, in 2010, he led a team of friends in a cycle relay from John O'Groats to Land's End. Swimming the Thames in September 2011 was his most gruelling, dangerous and physically demanding challenge yet. In total David has raised £8.5m for Comic Relief/Sport Relief. His contribution to sport and his demonstration of the Olympic values is extraordinary and inspiring.
The City of London
8.55am – St. Paul's Cathedral: Kevin Craig, 41, from Clapham will carry the Flame to the steps of St Paul's. Kevin was selected through the Lloyds TSB campaign for the help and support that he provides to Elizabeth's Legacy of Hope, a charity which provides limbs to thousands of children in developing countries.
10.03am – Millennium Bridge: Ade Adepitan will carry the Flame across the bridge. Paralympic medallist Ade was selected by Lloyds TSB because of his contribution to his sport and inspiring young athletes through his support of and involvement in the Lloyds TSB National School Sport Week.
London Borough of Southwark
10.11am – Shakespeare's Globe: Ifeyinwa Egesi, 12, from Camberwell will take part in a photo moment in the Yard in front of stage. Ify was nominated through the London 2012 Get Set programme for being hard working, dedicated and enthusiastic at school.
London Borough of Lambeth
12.28pm - Windrush Square: Cameron Fraser, 33, from Clerkenwell, will pass the Flame to Richard Fullbrook, 47, from Dagenham, at the community event taking place there.
Cameron was selected through the Lloyds TSB campaign for his work as co-ordinator of KEEN London, the only charity in London which provides free one-to-one sports and recreational activities for children and young adults with special needs. He recruits and supervises a pool of 100+ volunteers and manages a programme of weekly activities for over 40 children who would otherwise be excluded from the fun and games of an ordinary childhood.
Richard was selected through the Lloyds TSB campaign for his work as a Divisional Officer with City of London Police. Richard is dedicated to running marathons and as a member of the 100 Marathon Club he has notched up 136 at the last count! For his 100th marathon he raised over £1,500 for 'Help for Heroes', a charity close to his heart as a former member of the Parachute Regiment.
London Borough of Hammersmith & Fulham
1.56pm - Stamford Bridge: Georgina Moseley, 48, from Birmingham will carry the Flame past the home of Chelsea F.C. Georgina was selected through the Samsung campaign. She will be carrying the Flame in honour of her son Harry, who was nominated by John Terry, but sadly passed away last year after suffering from a brain tumour. Harry started helpharryhelpothers and in just over 2 years helped to raise over £700,000 for brain cancer research.
London Borough of Kensington & Chelsea
2.29pm - Holland Park: Skye Mcduffus, 12, from Chelsea, will hold the Flame in front of the Opera Stage steps. Skye was nominated through the London 2012 Get Set network for being a role model to her peers at school. She demonstrates the belief that anything is possible no matter what barriers one is likely to face.
London Borough of Hammersmith & Fulham
3.33pm – BBC White City: Two Torchbearers will exchange the Flame at the site of the finishing line in the stadium of the 1908 Olympic Games. One of the two Torchbearers is Antoine de Navacelle. Antoine is the great grand-nephew of Baron Pierre de Coubertin, the father of the modern Olympic Games. Antoine is closely involved in the Olympic movement and has promoted the Coubertin Award student essay competition ahead of the London 2012 Games to promote wider understanding of the Olympic ideals. As a board member of the International Pierre de Coubertin Committee, Antoine acts as an advocate for the values of respect, excellence and friendship remaining embedded in the modern Olympic Games.
London Borough of Westminster
5.03pm – Oxford Street: The Flame will be carried by Torchbearers as it travels on a London bus accompanied by the Lord Mayor of Westminster, Cllr Angela Harvey.
5.25pm – Regents Street/Shaftesbury Avenue: Torchbearers will carry the Flame through the West End. As the Flame passes the Gielgud Theatre, where Chariots of Fire is currently being staged, Vangelis, who composed the original score, will play music to accompany it.
5.40pm – Trafalgar Square: Patrick Kane, 15, from Camden, will carry the Flame in Trafalgar Square in the heart of the capital. Patrick was selected through the LOCOG public nomination campaign. Aged just nine months he contracted meningococcal septicaemia, the virulent form of meningitis, which resulted in a three month spell in the intensive care unit at St. Mary's Hospital in London. While the doctors were ultimately successful in saving Patrick's life, it unfortunately resulted in the amputation of his right leg below the knee, all of the fingers from his left hand, and part of each finger on his right hand. He now wears a prosthetic leg and is one of the few people in the UK to wear the world's most advanced bionic hand - the i-LIMB Pulse from UK company, Touch Bionics. He was the youngest ever person to be fitted with this advanced prosthesis, and he has consistently impressed the company by his ability to quickly understand and excel at controlling and using his prosthesis. He is an inspiration to everyone who meets him as his amputations have never held him back and he talks openly about what has happened to him, without a hint of bitterness or self pity.
5.59pm – Downing Street: Kate Nesbitt, 24, from Plymouth will carry the Flame into Downing Street where in front of Number 10 she will hand the Flame to Florence Rowe, 81, from Prestwood, who will then carry the Flame out of Downing Street.
Kate Nesbitt was nominated for being the first woman in the Royal Navy to be awarded the Military Cross. She was given the award in honour of her bravery in administering emergency medical treatment to her injured colleagues during an ambush in Afghanistan in March 2009.
Florence was selected through the Coca Cola campaign. When she was 18-years-old Florence was part of the crowds in London that welcomed the Olympics in 1948. Her selection as a Torchbearer fulfils her dream to again be part of the Olympics in London, reversing the number of years from 18 to 81.
6.33pm – Buckingham Palace: Jon Sayer, 33, from West Yorkshire, will carry the Flame along Birdcage Walk to the front of Buckingham Palace where he will hand the Flame to Wai Ming-Lee, 38, from Hemel Hempstead. Wai Ming-Lee will carry the Flame into Buckingham Palace where he will hand the Flame to John Hulse, 56, from Conwy, who will then carry the Flame out of Buckingham Palace. The exchange will be viewed by the Duke and Duchess of Cambridge and Prince Harry.
On leaving Buckingham Palace, John will be joined by members of the Household Cavalry as he travels along Constitution Hill.
Jon was nominated through the LOCOG public nomination campaign for the extraordinary contribution to the community of Todmorden. He has been a Scout volunteer for sixteen years working simultaneously with a Cub Scout Pack and an Explorer Scout unit as well as supporting fellow volunteers through their adult training. In addition to volunteering with the Scouts, Jon has undertaken training as a lifeguard, and he volunteers as a special Police Constable.
Wai Ming-Lee was nominated through the LOCOG public nomination campaign. He volunteers with the disaster mapping charity MapAction to channel aid to people left in desperate need after devastating disasters. Ming flew out for his first emergency mission in December 2004, in the aftermath of the Indian Ocean tsunami. He has since deployed on assignments across Asia, Africa and continental Europe.
John was nominated through the LOCOG public nomination campaign for his work with the Ogwen Valley Mountain Rescue Organisation. He has volunteered with the organisation since 1973 and taken part in over 1000 operations. Along with the other volunteers, they help casualties from steep mountains, rivers and mines of Snowdonia and elsewhere in the UK, quite often in difficult weather and darkness, frequently working with other emergency services such as the RAF helicopters, Police, Fire and Ambulance.
7.10pm – Hyde Park: Tyler Rix will light a celebration cauldron on stage at the Finale event of the London 2012 Olympic Torch Relay to enable the Olympic Flame to be seen by the audience. Tyler was selected through the Coca Cola campaign. He won the Schoolboys FA National Cup with the West Ham Academy, as well as representing his district and county. He released a number 1 album with Universal Records and performed as a classical soloist for the BBC Concert Orchestra and played jazz for 10000 people at the Mayor's Trafalgar Square celebrations. He is an inspiration to other youngsters to follow their dreams.
Hosted by the London Borough of Westminster the finale event will take place in Hyde Park between 2pm and 10.30pm.
Coca-Cola will bring extended live performances from some of the UK's coolest bands, whilst celebrating all our inspirational Future Flames - amazing people chosen to carry the Olympic Flame.
It will feature performances by Dizzee Rascal, and The Wanted. It will also feature a special performance by Mark Ronson and Katy B.
Other performers include: You Me at Six, Rizzle Kicks, Eliza Doolittle, Wretch 32, Morning Parade, Loick Essien, and Little Comets.
Entertainment will also be provided by Samsung and Lloyds TSB.
This is a ticketed event. See http://www.ticketmaster.co.uk/coca-colacelebrations for further information.
Torchbearer highlights:
Lawrence Dallaglio and Lewis Moody will carry the Flame in Hammersmith and Fulham.
Lewis was selected through the Samsung campaign. During the 16 years of professional rugby career he has played in two World Cup Finals, won two 6 Nations Championship Winners Medals, two Heineken Cup Winners Medals and six Premiership Winners Medals. In addition to his on field activities Lewis is a patron of the charity HOPE HIV supporting AIDS orphans in Africa, he has supported the charity for a number of years now and 2 years ago visited the children out in Africa and dedicated his testimonial year to raising funds for the charity.
Lawrence was selected through the Samsung campaign. He had a successful rugby playing career with both England and Wasps which included winning the World Cup in 2003. He currently fronts his own foundation that is aiming to raise £3 million for Cancer Research UK.
Chelsea Pensioner Jim Anderson, 76, selected through the LOCOG campaign will carry the Flame at the Chelsea Hospital where fellow residents, resplendent in their scarlet coats will form a guard of honour for him. Jim was selected for being a wonderful ambassador for the Royal Hospital and, as well as this, he is still a regular marathon and 10k runner.
Amitabh Bachchan will carry the Flame in Southwark. Amitabh is highly regarded as one of the greatest and most influential actors in Indian cinema. He first gained popularity in the 1970s and has since appeared in over 150 Indian films, in a career spanning more than four decades. More recently he has been appointed as a UNICEF ambassador for the Girl Child and last year accepted his doctorate from Queensland University.
Phil Packer, 39, from West Sussex, will carry the Flame in Islington. Phil was selected through the Lloyds TSB campaign for his courage and determination to overcome the serious injuries that he sustained in Iraq in 2008. He has raised over a million pounds for Help for Heroes, which included completing the London Marathon within two weeks, despite being told he would never walk again. He has continued with his charity work creating the British Inspiration Trust which he launched at No.10 with the Prime Minister.
Darren Fitzpatrick, 18, will carry the Flame through Camden. Darren has been awarded with the title 'Gold Ambassador of Camden' for all his dedicated volunteering work. He volunteers to help young children in sports and in other activities. He also takes part in helping children in Paralympics Sport. He volunteers with Quad Kids Athletics and is part of the three acres community play project. On average Darren does about 15 hours a week of volunteering and 10 hours a week of sports.
Tom Davis, 30 will carry the Flame through The City of Westminster. Tom is the 2006 Commonwealth Judo Champion and was selected by Coca-Cola to run with the Olympic Torch due to his role in helping young people pursue their passion in sport.
James Williams, Director, Olympic Torch Relay, Coca-Cola Northwest Europe & Nordics, said: "Today, on the final and sixty-ninth day of our incredible journey, more Coca-Cola Future Flames will help us celebrate the arrival of the Torch at it reaches its final destination in London. Katharine Ford and Caroline Hopkins, amongst others, will carry the Olympic Flame in Camden Town and Lambeth as it makes its way to Hyde Park. We will also get everyone to Move to the Beat tonight as we bring a whole host of musical talent including Dizzee Rascal, The Wanted, You Me At Six, Eliza Doolittle, Mark Ronson & Katy B, Rizzle Kicks, Wretch 32, Morning Parade, Loick Essien and Little Comets to the stage at our finale celebration in Westminster's Hyde Park."
Sally Hancock, Director, London 2012 Partnership at Lloyds Banking Group, said: "We are just one day away from the London 2012 Olympic Opening Ceremony and the final journey of the Olympic Flame to the Stadium. Today, the Flame makes its way through London from Islington to the City of Westminster and Lloyds TSB is looking forward to bringing the excitement of London 2012 to every community along the way. Lloyds TSB is creating as many opportunities as possible for people to get involved as the Relay passes their door. We're calling on everyone to cheer their Lloyds TSB Torchbearers, including Major Phil Packer and Paralympian Ade Adepitan, who carrying the Flame today. Our troupe of performers, the Flame Followers, are lighting up the celebrations along the route ahead of the Relay before their Flame Followers Spectacular in Hyde Park tonight."
Sunny Hwang, Vice President & Head of Global Sports Marketing, Samsung Electronics, said: "Samsung's Olympic Torch Relay campaign shares the Olympic spirit and encourages everyone to take part in London 2012. Samsung has offered an inspiring opportunity to people around the world to carry the Olympic Flame, as part of our ambition to make London 2012 Everyone's Olympic Games."
For further information please contact the London 2012 Press Office.
Notes to editors:
Each day two short packages of broadcast footage will be made available. The packages will be available via the Footage library – accessible from the Media Centre on london2012.com and direct from this link http://footagelibrary.london2012.com. Media will need to register for access in advance. Registration is free.
The broadcast of the Olympic Torch Relay is provided for Editorial Use Only. There can be no commercial association, no third party association and no commercial/ad superimposition on the video footage, unless the prior written consent of the IOC is acquired.
About the London 2012 Olympic Torch Relay Presenting Partners:
As the longest standing Presenting Partner of the Olympic Torch Relay, Coca-Cola will be using its heritage and experience to spread excitement across the UK ahead of London 2012. Coca-Cola's national nomination campaign - Future Flames – has focused on finding inspirational young people from across the country to have the once in a lifetime opportunity to carry the Olympic Flame. This summer Coca-Cola will celebrate these Future Flames: young people who use their passions in areas like sport and physical activity, music and dance, and community and the environment; to spread happiness in their local communities.
As the only National Presenting Partner of the London 2012 Olympic Torch Relay, Lloyds TSB will be taking the inspiration and excitement of the Olympic Flame right to the heart of communities across the UK. As part of Lloyds Banking Group, Bank of Scotland will be the National Presenting Partner in Scotland. We are creating as many opportunities as possible for communities the length and breadth of the UK to get involved as the Flame travels past their front doors.
Lloyds Banking Group is Britain's biggest corporate investor in UK communities and in 2011 invested £85 million and as part of the Group's Community Investment Programme, we've launched the Lloyds Banking Group Community Fund to give back to the communities in which we operate and pass through on our journey with the Olympic Flame. We're inviting everyone to visit the Lloyds TSB stand at each Evening Celebration to vote for a community project in their area that inspires and supports young people. By voting at the Evening Celebration members of the public will automatically enter a draw to win four tickets to London 2012. The two projects that receive the most votes at each locality will each win a £5,000 grant from Lloyds Banking Group. At the Lloyds TSB site members of the public will also have the opportunity to have their photo taken with the Olympic Torch, meet Lloyds TSB Local Heroes – the future stars of Team GB and ParalympicsGB – and get up close to our Flame Followers.
As a Presenting Partner of the London 2012 Olympic Torch Relay, Samsung aims to encourage everyone to be part of the greatest show on Earth to make London 2012 'Everyone's Olympic Games.' We aspire to offer new and memorable experiences for everyone around the world through our own innovative and smart wireless technology. Samsung is providing 1,360 Torchbearers, who have "gone the extra mile" by contributing to the local communities, through its worldwide public nomination campaign. In total over 25,000 nominations were received. Samsung will support towns and cities to celebrate the exciting moment of the Torch Relay and help showcase Great Britain's cultural landmarks to provide a more enjoyable experience to everyone. The evening celebrations that will be staged by Samsung in 66 towns and cities throughout the Olympic Flame's journey across the UK, will allow Samsung to entertain the community they are visiting. The Samsung caravan, complete with LED screen on the side showcasing runners and goodwill messages, will follow the Torchbearers around the UK cheering up everyone to celebrate the Torch Relay with music and interaction with local communities. It is Samsung's ambition that London 2012 will be an event that reaches and involves more people than on any other Olympic Games occasion.
The BBC will be providing extensive coverage of the Torch Relay on television, radio and online. This will include special Breakfast shows on every BBC local radio station, and extended live coverage of an evening celebration event in every Nation and English Region. Full details of the coverage will be at bbc.co.uk/2012.
The Supporters of the London 2012 Olympic Torch Relay are:
Worldwide Olympic Partners Procter and Gamble and Visa, Tier One Partners adidas, BMW, BP, British Airways, BT and EDF, Tier Three Providers Aggreko, Holiday Inn and NATURE VALLEY.
London 2012 Games partners:
The Worldwide Olympic Partners who support the London 2012 Olympic Games and the National Olympic Committees around the world are Coca-Cola, Acer, Atos, Dow Chemical Company, GE, McDonald's, Omega, Panasonic, Procter and Gamble, Samsung and Visa.
LOCOG has seven domestic Tier One Partners - adidas, BMW, BP, British Airways, BT, EDF and Lloyds TSB. There are seven domestic Tier Two Supporters – Adecco, ArcelorMittal, Cadbury, Cisco, Deloitte, Thomas Cook and UPS.
There are now twenty-eight domestic Tier Three Suppliers and Providers – Aggreko, Airwave, Atkins, Boston Consulting Group, CBS Outdoor, Crystal CG, Eurostar, Freshfields Bruckhaus Deringer LLP, G4S, GSK, Gymnova, Heathrow Airport, Heineken UK, Holiday Inn, John Lewis, McCann Worldgroup, Mondo, NATURE VALLEY, Next, Nielsen, Populous, Rapiscan Systems, Rio Tinto, Technogym, Thames Water, Ticketmaster, Trebor and Westfield