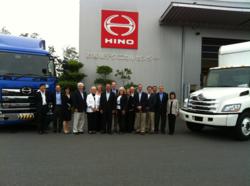 When I became your governor, I promised to go anywhere to bring jobs to West Virginia.
CHARLESTON, W.Va. (PRWEB) July 26, 2012
Gov. Earl Ray Tomblin today released the West Virginia Edge Business Report. The report documents the state's economic progress. The July 2012 report highlights projects and related announcements from businesses both large and small that will assist with the creation of new jobs and the preservation of existing jobs.
Hino Motors to Create 20 New Jobs, Invest Nearly $6 Million, in West Virginia
Gov. Tomblin joined Hino Motors Manufacturing USA to announce new jobs and investments at the company's Williamstown truck assembly plant. Hino will add 20 new jobs by Jan. 1, 2013, and directly invest $2.9 million for machinery, equipment and improvements. Approximately $3 million will be indirectly invested to purchase tooling vital to parts production. Opened in Wood County in 2007, the Hino plant assembles Class 6 and 7 medium duty trucks. (For additional information about the investment, see the Hino news story that accompanies this media kit.)
West Virginia Educators, Manufacturers, Initiate New Education-to-Work Program
A new program helps West Virginia students earn while they learn valuable job skills. The new Advanced Manufacturing Technician curriculum will be the cornerstone of the West Virginia Manufacturers Association's education initiative, the West Virginia Federation for Advanced Manufacturing Education (WV FAME). Toyota Motor Manufacturing West Virginia and Bridgemont Community and Technical College have created the Toyota Advanced Manufacturing Technician (Toyota AMT) program. Toyota AMT combines an advanced curriculum, paid work experience and instruction in business principles and best practices. At the conclusion of the program, successful students will receive a two-year associate degree from Bridgemont. The first class will have 20 students, selected on the basis of such factors as math capability (minimum of 19 ACT) and participation in Project Lead the Way. Graduates are not guaranteed jobs with Toyota, but may be hired by the company, recruited by other manufacturers or pursue a bachelor's degree in fields such as engineering, technology, or business.
Webster County Sawmill Reopens, Creates 28 Jobs
The former Coastal Lumber sawmill in Hacker Valley recently reopened as Eastern Hardwoods. The reopened mill now employs 28 workers. Eastern Hardwoods operates hardwood manufacturing sawmills and concentration yards. The company has manufacturing facilities throughout the Appalachian hardwood-producing region and operating facilities in West Virginia and Pennsylvania.
WVEDA Approves $1.7 Million in Loans for Two West Virginia Businesses
The West Virginia Economic Development Authority (WVEDA) approved loans totaling $1,735,150 for two West Virginia companies during its June meeting:

HIC-Industrial Center, $182,000, to improve an existing structure in Huntington, Cabell County. The private nonprofit economic development corporation HIC-Industrial will lease the building to MISCOR Group Ltd., which makes motor repairs for various industrial and rail services.
West Virginia Regional Technology Park, $1,553,150, to finance a new boiler system. In 2010, Dow Chemical gifted to the State of West Virginia a 258-acre piece of property with pre-existing laboratories and office buildings formerly known as the Union Carbide Technical Center, located in South Charleston. The West Virginia Regional Technology Park is now operated by the West Virginia Higher Education Policy Commission.
Study reports arts culture contribute $6.2 million to Elkins economy
A new study reports that nonprofit arts and culture contributes $6.2 million to the Elkins-area economy. The study, conducted by Americans for the Arts, looked at 182 communities and regions representing all 50 states and the District of Columbia. The research shows that $1.6 million is spent by nonprofit arts and culture organizations in Elkins. An additional $4.6 million was generated by event audiences.
Simonton Windows ranks "highest" in J.D. Power study
Simonton Windows has rated "Highest in Customer Satisfaction" in the J.D. Power and Associates 2012 Windows and Patio Doors Satisfaction Study. This is the third consecutive year the company has received the ranking. Simonton has facilities nationwide, including Parkersburg, Pennsboro and Ellenboro, W.Va. SimEx, Simonton's vinyl extrusion plant, is located in St. Marys, W.Va.
State promotes West Virginia food companies at agriculture show
The West Virginia Department of Agriculture participated in the Fancy Foods Show in Washington, D.C. Featured in the department's pavilion were five West Virginia food firms: ThistleDew Farm Inc., honey, Proctor, Wetzel County; Uncle Bunk's, mustards and sauces, Sistersville, Tyler County; Bigg Riggs Farm, sauces, butter and jellies, Hampshire County; Legacy Foods LLC, copper kettle apple butter, Clay County; and Custard Stand Food Products, a take-out dairy bar with a family recipe for hot dog chili, Webster Springs, Webster County.