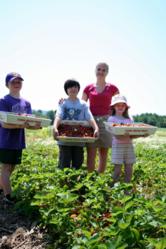 Located in Upstate New York, Washington County offers visitors plenty of summer fun this August, including outdoor activities, events, local foods, history and more.
Fort Edward, NY (PRWEB) July 28, 2012
Visitors to Washington County, NY this August can enjoy fun-filled outdoor activities and attractions, events, local foods and agri-tourism operations, polo, history and the performing arts.
Visitors looking for some family vacation fun can head to the Washington County Fair, which will be held August 20-26 in Greenwich, NY. The fair, which has been taking place for over a century, includes entertainment, food, displays, rides, animals and much more.
Travelers can also canoe or kayak the Hudson, Batten kill or Mettawee Rivers, or one of seven lakes and ponds. Travelers can cruise the Champlain Canal or put in on the Eastern shore of Lake George. Rafting is also available allowing visitors to enjoy a lazy summer day floating under one of the area's scenic covered bridges.
For anglers interested in trout fishing getaways, the Batten kill features brown trout, which anglers can try to catch using synthetic flies (no other lure/bait is allowed by law). In addition to the Batten kill, the nearby Mettawee and Hidden Pools are also popular spots for fly fishing enthusiasts.
There are also plenty of opportunities for hiking, as part of Washington County is located in New York's Adirondack Park. There are several hiking trails on the Eastern Shore of Lake George that range from easy to difficult.
Biking along the scenic roads of Washington County is also a fun way for visitors to spend time in the area. With several covered bridges, country roads and many charming towns and villages, the opportunities for bike trips are plentiful.
Visitors can learn about local foods and farms at several places in Washington County including Battenkill Valley Creamery for milk and ice cream made locally or GardenWorks, which offers a full range of locally-made foods as well as their own gardening supplies and produce.
Washington County is home to many art galleries and locally-owned shops featuring local artisans. Performances at area venues are also a great way to enjoy a summer evening in Washington County. Travelers can enjoy the excitement of polo at Surya Polo or learn more about the area at one of several museums and historical sites.
Visitors interested in more information on a summer vacation in Washington County can visit http://www.washingtonnycounty.com.
About Washington County, New York
Located where the Hudson River Valley meets the mighty Adirondacks, scenic Washington County offers visitors charming country roads, covered bridges, agri-tourism and farm experiences, local artisans and cultural activities, charming boutiques for shopping and so much more. Visitors can learn more about Washington County at http://www.washingtonnycounty.com.
###