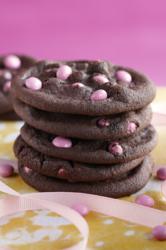 The Pink Cookie is not only delicious but makes it easy for operators to create memorable connections with their patrons.
(PRWEB) July 30, 2012
Since 2010, Otis Spunkmeyer® has donated more than $200,000 to Susan G. Komen for the Cure® in the fight to end breast cancer forever through sales of its limited-edition Pink Cookies. Show your support and make a connection to this great cause by serving the Pink Cookie at your location.
As part of the 2012 Pink Cookie sales promotion, Otis Spunkmeyer will donate to Komen $1.50 in connection with each product sold, with a minimum guaranteed donation of $100,000. Offered for a limited time only, the Pink Cookie will be available from Aug. 1 through the end of Breast Cancer Awareness month in Oct. 2012. Each cookie is 1.33-oz., pre-portioned for freezer-to-oven convenience and comes 240 per case.
A delicious chocolate cookie loaded with pink candy coated chocolate pieces, the Pink Cookie helps draw attention to breast cancer by increasing awareness and raising funds for research. Show patrons you're supporting a worthy cause with free Pink Cookie table tents and clings, and other point-of-sale materials.
"The Pink Cookie is not only delicious but makes it easy for operators to create memorable connections with their patrons," says Nikkie McBrayer, category manager, cookies. "This connection fosters favorable impressions and keeps patrons coming back for more."
As the world's boldest breast cancer community, Susan G. Komen has invested almost $2 billion to fueling the best science and making the biggest impact in the fight against breast cancer. To make a donation or learn more about Komen, visit komen.org.
Otis Spunkmeyer is a registered trademark of ARYZTA LLC. For more information, contact your Otis Spunkmeyer representative, call 1-888-ASK-OTIS or visit spunkmeyer.com.
About ARYZTA
ARYZTA AG is a global food business with a leadership position in specialty bakery. The company is based in Zurich, Switzerland, with operations in North America, South America, Europe, South East Asia, Australia, and New Zealand. ARYZTA, LLC in North America is headquartered in Los Angeles, California. Created by the integration of La Brea Bakery, Otis Spunkmeyer, Fresh Start Bakeries and Great Kitchens, ARYZTA provides a broad range of quality baked goods. Bakery expertise includes: artisan breads, buns, English muffins, and frozen bread dough; cookies, pastries, muffins, and other sweet goods; laminated dough and puff pastry; take and bake pizza; donuts and other mixes, fillings, icings, and glazes. To learn more about their passion for good food, visit aryzta.com.