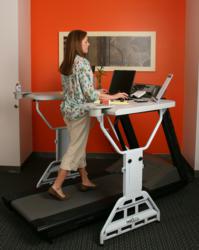 From call centers to Executives wanting to set a good example, TrekDesk offers an option that can compliment any effective wellness program strategy."
Denver, Colorado (PRWEB) July 26, 2012
Brad Cooper, a nationally known corporate wellness expert and president of US Corporate Wellness is one of the top advisors in the world regarding corporate wellness. His most recent book in this capacity, titled 'Employee Wellness: Implementing a High Impact, High ROI Strategy', cites the TrekDesk treadmill desk as one of the most flexible products available today to keep employees healthy and compliment an effective wellness program.
Mr. Cooper elaborated on why he chose to include the TrekDesk treadmill desk in his book. "An effective wellness program strategy must focus in on the concept of 'One Size Fits ONE.' There is no single program or offering that will 'fix' everyone, but TrekDesk offers an engaging and simple approach that can fit into the daily work life of just about anyone, eliminating the issue around 'not enough time.' From call centers to Executives wanting to set a good example, TrekDesk offers an option that can compliment any effective wellness program strategy."
"TrekDesk has received numerous honors and accolades over the years as a simple solution which solves a complex problem rooted in inactivity however recognition of TrekDesk's potential value to companies from an expert with the corporate stature, experience and reputation of Brad Cooper is just a thrill for our company," stated Steve Bordley, CEO of TrekDesk Treadmill Desk.
US Corporate Wellness, Inc. is a nationally recognized and URAC accredited provider of effective and personalized employee wellness programs. With a focus on creating a true culture of wellness within each organization, US Corporate Wellness consistently demonstrates high participation rates, long-term engagement levels and solid bottom line results. With clients ranging from Children's Hospital Colorado, Akerman Senterfitt, Bethesda Ministries and the City of Thornton, they are seen as the premier choice for personalized and effective wellness programs nationwide. US Corporate Wellness is also one of only 9 firms to currently earn Full Accreditation as a Comprehensive Wellness Provider through national credentialing agency URAC. For more information, visit http://www.USCorporateWellness.com. To purchase the book please visit: http://www.thompson.com/public/offerpage.jsp?prod=WELLN
Designed to fit any existing treadmill, TrekDesk treadmill desk is an affordable, full sized, height adjustable workstation that allows individuals the opportunity to gain the necessary amount of exercise daily to maintain health, prevent disease, strengthen muscles, boost mood and productivity, without requiring additional time during the day or extra motivation. Wondering how to workout at work? TrekDesk offers the solution.TrekDesk treadmill desk is currently available for sale online at http://www.trekdesk.com.