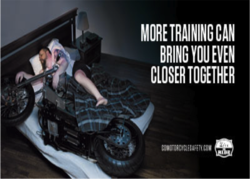 I'll Take Care of It
Denver, Colorado (PRWEB) July 27, 2012
The Denver personal injury attorneys at Rosenthal Law remind motorists that this is the most dangerous time of year for motorcycle accidents. Thousands of riders from across the country converge on the Rocky Mountain region each year.
The period between the Fourth of July and Labor Day is typically among the deadliest for riders of all ages. Montana officials recently announced an increase in rider deaths this summer. And the Colorado Department of Transportation reports motorcycle accidents in Colorado continue to increase at an alarming rate.
Consider this: Nationwide, motorcycles account for fewer than 2 percent of motorists on the road. Yet Colorado motorcycle accidents accounted for 1 in 5 of the state's fatalities in 2010. As a result, the state has launched "Live to Ride," a new safety awareness campaign aimed at encouraging riders to get more training in an effort to stay safe on the road.
Yet our Colorado motorcycle accident attorneys know it is the driver of the other vehicle involved in the accident that is at-fault in more than half of such motorcycle accidents. The most common cause of such accidents is a motorist failing to yield by turning left in front of an oncoming rider. Often a motorist will claim the rider was speeding, when in reality a motorist misjudged the distance and speed of an approaching motorcycle because of its small size.
New statistics released this month from the National Highway Traffic Safety Administration report that 4,502 riders were killed and 90,000 were injured in accidents on the nation's roads in 2010. In fact, the number of serious and fatal accidents has increased steadily in the last decade as motorcycle riding has grown in popularity.
A total of 3,197 riders were killed in 2001, when 4.9 million registered motorcycles were on the nation's roads. By 2009, nearly 8 million registered motorcycles were on the roads and motorcycle accidents claimed more than 4,400 lives and injured about 90,000.
Right now, Colorado riders are enjoying the height of the summer riding season. And they are joined on Colorado's twisting and turning highways and byways by thousands of riders from across the country. Whether riding one of Colorado.com's 10 Colorado riding tours, or setting out on a destination of their own, these riders enjoy the same rights to the road as other motorists.
In many cases, an accident occurs because a motorist does not fully understand how a motorcycle functions. To that end, the Motorcycle Safety Foundation has released 10 Things Every Driver Should Know About Motorcycles. Highlights include:

More than half of fatal motorcycle accidents involve another vehicle. In most cases, the vehicle's driver is at fault.
Motorcycles are easily lost in blind spots – look carefully.
A motorcycle's small size makes it look faster and further away than it may appear.
A rider often slows down by rolling out of the throttle. And motorcycle turn signals typically do not shut off on their own. Thus, turn signals and brake lights are not always an accurate reflection of a rider's intentions.
Motorcycles require about the same distance to stop as a passenger vehicle—don't expect them to be able to stop on a dime.
Give motorcyclists a break through the remainder of the summer riding season; let's all do our part to save a life.
The Law Firm of Jeremy Rosenthal represents motorcycle accident victims throughout Colorado. Call (303) 825-2223 for a free consultation to discuss your rights.
Links:
Motorcycle Safety Foundation's "10 Things All Car, Truck, and Bus Drivers Should Know about Motorcycles:" http://www.msf-usa.org/index_new.cfm?pagename=News&action=display&content=1C1BB76C-C291-4619-4420CF4AB9901F4B