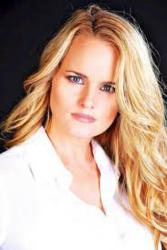 One of the most beautiful faces in the world, Deanna Meske creates opportunities making things happen for herself.
(PRWEB) July 26, 2012
You may have seen Deanna's face while working the red carpet or hosting events for Friday's, Toyota, HRC TV. Successful actress and model Deanna Meske has launched her production company to produce photo shoots to feature films. The seasoned actress has done over 25 commercials from Cowboy Burger to Blue Cross. She is now developing and producing projects under her own umbrella.
Deanna runs and owns and a small production company, which has produced three shorts and is mid a web series called "New Orleans Pie" The Series. Deanna started her production company by filming commercials for the manufacturers who launch products at industry specific conventions to regional companies in her market focused in the construction industry. Deanna also stars and handles the casting for the productions. Her company is about to launch a new channel for the health and nutrition industry. Deanna has peaked Mahvrick's interest because one of his companies own in a thriving multi-million dollar health related website founded by a best-selling author. "We are looking to build faces around different market segmentation," says Richard Mahee, Mahvrick.
Deanna has taken her looks, ability and entrepreneurship and turned it into a business with several sustainable competitive advantages. If she is not in front of the camera, she is producing commercials or photo shoots for clients from Louisiana to Los Angeles. Deanna was recently named in the top 100 Most Beautiful List and is currently working for the Food Network.
Most Beautiful List nominates five hundred well-known models and actress around the world to its list. Deanna Meske is a nominee for the 2013 list. Selena Gomez, Megan Fox and Lindsay Lohan were the top three picks on the 2012 Most Beautiful List. Other notables are JLo, and Kristen Stewart. Mahvrick picks from athletes, actresses, musicians, models (runway/pageant) and philanthropists. The Most Beautiful List is announced every January 1, to media outlets in 40 countries. "Deanna is exceptional, because she is making things happen for herself. She creates opportunities, but also takes on regional and national campaigns for major brands," says Richard Victor Mahee.