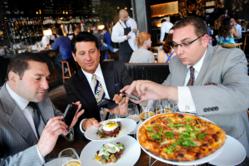 Lady Gaga tweets about exclusive Men Who Dine video.
New York, NY (PRWEB) July 27, 2012
The Men Who Dine landed an exclusive video interview with Lady Gaga's press-shy father Joe Germanotta discussing his personal motivation for opening Joanne Trattoria - the restaurant he named for his late sister. The story was profiled in Wednesday's NY Daily News.
Shortly after the video was released on YouTube, Lady Gaga tweeted to her father, "@joegermanotta - daddy look you were on TV and didn't even know it! They gave your restaurant an amazing review! *ours* Lady Gaga @ladygaga" and also posted the accompanying link to the video at http://www.youtube.com/watch?v=v7bte7nTve0
In the video, Germanotta talks about his lifelong dream of owning a restaurant. For him it was a long road, "What happened is that as we had children and we had more and more financial needs, I had to go where the money was … when I was in high school, I wanted to own a restaurant, 45 years later, here we are."
Germanotta goes on to talk about the menu, which includes a recipe for Italian wedding soup given to celebrity chef Art Smith by Gaga's grandmother. Chef Smith, Oprah's former personal chef, describes the restaurant, "Joanne's, I would have to say, is not about being authentic Italian, What it is about is family, familiarity, that place where people come when they all know each other. It has that sense of place. It's not trendy. It's not meant to be that. Joe never wanted that." Chef Smith has since been adopted by the legions of Gaga fans, known as The Little Monsters, and they have affectionately dubbed him "Chef Monster".
The Men Who Dine are Anthony Scillia, Alan Watts and Gennaro Pecchia, a trio of unconventional food bloggers based in New York City. They are an underground foodie force– connecting with chefs, restaurants and events through social media, word of mouth and lots and lots of meals. The Men Who Dine text and tweet mid-meal, snapping endless pictures of their food, sharing the sights, sounds, smells and tastes of what they are eating and where they are eating it. The Men Who Dine have transformed today's current food revolution it into a cult following.