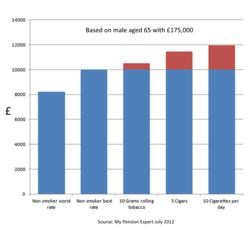 This means through shopping around for the best deal, as a smoker, they could increase their income for life from an annuity by a staggering 43%
(PRWEB UK) 26 July 2012
Annuity rates are at historic lows during this current economic crisis so people considering retirement should take time and look at the best options for their retirement pot. Figures released by My Pension Expert have shown that smokers can significantly increase the amount of income they receive compared to non-smokers. Annuity companies take into account that smokers will statistically die at a younger age than their healthier counterparts and this is reflected in the rate they can obtain from their pension at retirement.
A healthy 65 year old male with a pot of £175,000 can, at best, expect around £10,000 income per year while a smoker who smokes 10 cigarettes per day could increase this to £11,963 per year with a smokers annuity. This represents an increase in annual income for life of 19.63%.
Scott Mullen of My Pension Expert, the annuity specialists, commented "these figures show the importance of seeking advice at retirement as these decisions once made are irrevocable, so care should be taken to shop around. This is demonstrated when you consider that the worst quote available for a healthy male age 65 with a pot of £175,000 is only £8,233. This means through shopping around for the best deal as a smoker, they could increase their income for life from an annuity by a staggering 43%."
Smokers' annuities are generally for those people who have smoked constantly for over 10 years. Interestingly, a non-smoker could benefit from a smokers annuity quote increase if their spouse smokes and is named as a spouse on the annuity.