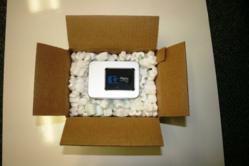 "We developed the SaaS BDR solution based on our own experiences as an MSP"
Bakersfield, CA (PRWEB) July 30, 2012
The CharTec SaaS (Software as a Service) BDR is now improved with the ability to run on a Windows 7 platform, saving Partners licensing costs near $700. CharTec's SaaS BDR ensures the maximum uptime and continuity of end users' business-critical infrastructures through real-time onsite data protection and fortified offsite backups. And, it works on hardware from providers such as Dell, HP, IBM and others. Partners also receive real-time access to the CharTec BDR Portal where the status of the BDRs being monitored can be viewed from anywhere internet is available, even on their own smart phone.
Originally designed to run in place of current backup and recovery solutions or as a standalone offering, the CharTec SaaS BDR allows MSPs to gain improved data protection and restore features without the need to remove, re-deploy, or substitute hardware currently installed and running. The original purpose of the SaaS BDR was to provide existing hardware a second life as well as reduce the costs for Partners when transferring away from a current or failing BDR provider.
"We developed the SaaS BDR solution based on our own experiences as an MSP," said Alex Rogers, CEO of CharTec. "We recognized how painful associated costs such as hardware, licensing, and support were during our own BDR migration with an old provider. So, we created an appliance that allows MSPs to receive all the same features of our Hardware BDR solution without having to experience the cost of replacing hardware and purchasing new licensing. And then we said 'What the heck?' and threw in emergency 24x7 American-based support, free set up and assistance by our teams, RMM, remediation and all the future scripting and patch updates, too. It's what we do for our Partners."
Easily deployed from a USB thumb drive with only a 10-click installation process, the CharTec SaaS BDR replicates a client's production infrastructure through local and cloud-virtualized backup images, which are tested and verified daily to ensure data is up to date and viable. Status monitoring is available through an easy-to-use web-based portal accessible from standard browsers or smart phones. CharTec provides its own infrastructure for monitoring, alerting, scripting and workforce in order to remediate any issues and assist on the SaaS BDR setup. All this enables Partners to deliver rapid and reliable restore of any backup image at any time to ensure maximum uptime. Requirements for the SaaS BDR solution include: 64-bit hardware, a minimum of 4GBs of RAM, and a license of Windows 7 Pro 64 bit.
CharTec Partners are eligible to receive an initial SaaS BDR for only $39 per month. Prices originally start at $69 per month. Free installation will be provided to early adopters. For more information or to purchase the CharTec SaaS BDR, visit http://www.CharTec.net/SaaS-BDR
CharTec will be hosting a webinar at 10am PST on August 16th to give an inside look at the benefits of the SaaS BDR. Register at http://bit.ly/LT29ZB and watch their promotional video http://bit.ly/M99tN8.
Follow CharTec
http://twitter.com/chartec_haas
http://www.facebook.com/CharTec
http://www.linkedin.com/company/chartec-llc
About CharTec
CharTec is the SMB channel's leading provider of Hardware as a Service (HaaS) and the largest MSP training provider. CharTec was developed exclusively for IT service providers who support small to medium-sized businesses. The company designed and built the largest MSP training facility. A 20,000sf building in North America specializing in technical and sales training for MSPs, as well as creating a HaaS program intended to provide custom hardware at no upfront cost to its Partner base of nearly 1000 companies worldwide.
CharTec is continually recognized for its innovation and leadership by frontrunners in the IT Channel. Recent 2012 awards include a CRN Channel Chief, SMB 150, CRN Women of the Channel, Business Solutions "Best Channel Vendor," and three ASCII Success Summit Awards.
For more information, please visit http://www.chartec.net or call 866.544.2772
###
All product and company names herein may be trademarks of their respective owners.