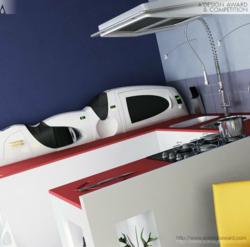 Como, Italy (PRWEB) July 27, 2012
A' Award and Competitions are delighted to share that the design Kitchen Train by Ehsan Sayyad has been awarded with the famed Golden A' Design Award in Home Appliances Design Category highlighted as one of the winners by the international jurors of the A' Design Awards & Competitions within thousands of projects.
Details of Kitchen Train
Ahmad Abedini, the creative mind behind the winning design Kitchen Train says, "Using different styles of kitchen instruments creates an untidy cooking environment in addition to visual annoyance. Putting it in a nutshell, I tried to make a unified set of these popular kitchen accessories commonly used in all houses.This design was purely inspired by creativity. 'United form' and a 'Pleasant appearance' are two of its characteristics. Moreover, it will be welcomed by the market because of its innovative appearance. This is due to the fact that 6 utensils are bought and paid for by the customer in one package. On the other hand, this will be an opportunity for the manufacturer." Learn more and download high-resolution photos at: http://www.adesignaward.com/design.php?ID=25209
The Golden A' Design Award
The Golden A' Design Award is a prestigious award given to top 3% percentile designs that has delivered an exemplary level of greatness in design. The designs are judged by a panel of three different jury which is composed of Academic, Professional and Focus Group Members. The designs are evaluated with score normalization to remove any biases and are voted on aspects such as functionality, ergonomics, engineering, presentation, innovation, usability, fun details, technology, and any other specific points that could be considered, each of these points are further weighted for different jury groups.
About A' Design Award and Competitions
A'Design Award and Competitions, aims to highlight the excellent qualifications of best designs, design concepts and design oriented products. A' Design Award and Competitions are organized and awarded annually and internationally in multiple categories to reach a wide, design-oriented audience. To learn more visit: http://www.whatisadesignaward.com