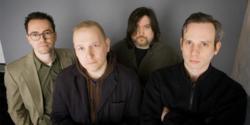 Cincinnati, OH (PRWEB) July 26, 2012
The Sea and Cake are a band who need very little introduction. In their extensive 20 year career the band has bridged the gap between Brazilian music of the late 1960's, African influenced guitar lines, and independent pop. A sound that is entirely distinct, centered around the delicate guitar interplay of Sam Prekop and Archer Prewitt, driven by the versatile rhythms of bassist Eric Claridge and drummer John McEntire, and finally set apart by Prekop's vocals and obtuse lyrics. The trademark soft spoken intimacy has been replaced by assured confidence and buoyancy. The energy and excitement are palpable.
General admission tickets, $15 ADV & $18 DOS (plus applicable fees), go on sale this Friday July 27 at 10 AM at http://www.ticketmaster.com, http://www.tafttheatre.org, the Taft Theatre Box Office and all Ticketmaster outlets including select Kroger stores. Charge by phone at 1.800.745.3000.
The Sea and Cake deliver an album with the freshness and energy of a new band, and the ease and musicianship that can only come with experience. Runner began as the companion piece to 2011's The Moonlight Butterfly, and using that album's sonic experimentations as a starting point for a new process of writing and recording, became something completely unique. Songs that began as synthesizer experiments in Sam Prekop's home studio were reimagined by the other members, and eventually recorded and mixed by John McEntire at Chicago's Soma Studios. The result is an album that feels like a private travelogue. Start listening at one place, and end up some place else. Cherish the unexpected mysteries around every corner.
From Sam Prekop:
Normally I would ignore past efforts when writing something new, but this felt different, The Moonlight Butterfly was ripe for expansion. Keeping the butterfly in mind focused a direction and provided a good jumping off point. Between The Moonlight Butterfly and Runner, I wrote and recorded a soundtrack for a film called Pavilion. It was absolutely wonderful for a while not to know what I was doing, but working still, scrambling with purpose. I truly felt free to try almost anything. In completing a picture with sound, trying to record a nuance, the particulars became huge - to render a space, describe a time, follow a spell. Reaching in this direction has definitely informed the new record.
I was interested in writing songs that started not with guitar but with synthesizer/sequencer ideas. The modular synth parts didn't always make it through to the final recordings, but the influence is still there. On "Harps" for instance, that melody and structure could not have happened if I hadn't played off the sequencer right at the beginning. Having the pieces start in my home studio, I became quite cavalier with them, painting with a new fat sloppy brush. The songs were feeling pleasantly out of control and I was hearing music unlike other material I had come up with before.
The Sea and Cake worked remotely for quite a while on Runner. As a result, what the band brought was more reactionary, impulsive, since the foundation was already there. The pieces seemed able to absorb a new kind of risk taking. It was fascinating to hand over almost complete works and have the other members of the band have at it, rip up, reconfigure, reconsider. Just when I felt I couldn't go further on a song, someone in the band would change it forever. I firmly believe in taking cues and direction as the material evolves. I'm never one to impose