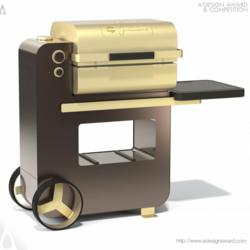 Como, Italy (PRWEB) July 28, 2012
A' Award and Competitions are proud to see that the design Bob Grillson by Grillson GmbH has been announced as a winner of the renowned Silver A' Design Award at Home Appliances Design Competition picked as the winner by the respected jury members of the A' Design Awards & Competitions amidst thousands of participants.
About Bob Grillson
Grillson Gmbh, the lead designer of the awarded work Bob Grillson explains "Bob Grillson is a new category in barbecue: Three devices in one: Smoker, Grill, Pizza oven. Perfect temperature control like a baking oven due to automatic temperature regulation. No more scrubbing the grill grate: real self cleaning by means of pyrolysis. Temperature range from 80 °C to 480 °C. Healthy barbecuing without grease fire. Typical barbecue flavor by means of pure and environmentally-friendly wooden pellets. Even temperatures in the grilling chamber by means of convection and radiant heat. Year-round due to insulated grilling chamber." Learn more about the award winning design: http://www.adesignaward.com/design.php?ID=24944
Team Members for Bob Grillson
Bob Grillson was made by Managing Director Dirk Luttermann, Engineer, Matthias Beutel and Designer Kay Burmeister.
The Silver A' Design Award
The Silver A' Design Award is a prestigious award given to top 5% percentile designs that has carried out an exemplary level of quality in design. The designs are judged by a panel of three different jury which is composed of Academic, Professional and Focus Group Members. The designs are evaluated with score normalization to remove any biases and are voted on aspects such as functionality, ergonomics, engineering, presentation, innovation, usability, fun details, technology, and any other specific points that could be considered, each of these points are further weighted for different jury groups.
About A' Design Award and Competitions
A'Design Award and Competitions, aims to highlight the excellent qualifications of best designs, design concepts and design oriented products. A' Design Award and Competitions are organized and awarded annually and internationally in multiple categories to reach a wide, design-oriented audience. To learn more visit: http://www.whatisadesignaward.com