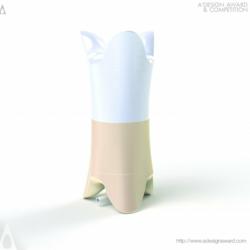 Como, Italy (PRWEB) July 28, 2012
A' Award and Competitions are encouraged to announce that the design Rain Maker by CSI has been acknowledged with the renowned Silver A' Design Award in Home Appliances Design Category selected as a winner by the transnational jurors of the A' Design Awards & Competitions among numerous participants.
More information on Rain Maker
Yong Sang Kang, the creative mind behind the winning project Rain Maker says "Hundreds of millions of people suffer from sicknesses and hunger due to the lack of access to clean water. By filtering non potable water, bacteria and germs are removed from surface and underground water and specially rainwater. this product can make purified water through a membrane filter by human power without any electricity. this membrane filter could be used longer than existing product by back flushing. ex filters and additioal treatement cartridge could be placed in the main body part" Learn more and download high-resolution photos at: http://www.adesignaward.com/design.php?ID=25672
Design Team for Rain Maker
Rain Maker was made by Inventor Yong-sang Kang, The Purun Design Firm and Chief Designer Yoon-sup Cheong.
The Silver A' Design Award
The Silver A' Design Award is a prestigious award given to top 5% percentile designs that has attained an exemplary level of excellence in design. The designs are judged by a panel of three different jury which is composed of Academic, Professional and Focus Group Members. The designs are evaluated with score normalization to remove any biases and are voted on aspects such as functionality, ergonomics, engineering, presentation, innovation, usability, fun details, technology, and any other specific points that could be considered, each of these points are further weighted for different jury groups.
About A' Design Award and Competitions
A'Design Award and Competitions, aims to highlight the excellent qualifications of best designs, design concepts and design oriented products. A' Design Award and Competitions are organized and awarded annually and internationally in multiple categories to reach a wide, design-oriented audience. Learn more: http://www.whatisadesignaward.com