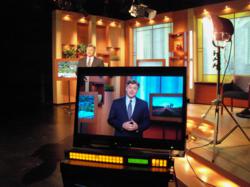 The goal is to reach 60 million children by 2015.
Fort Lauderdale, FL (PRWEB) July 27, 2012
A new nationwide TV special shows children in a South African shantytown, sun-kissed Fiji, even the mean streets of Chicago, coming to Christ and bringing friends with them because of Evangelism Explosion's global children's outreach, Hope for Kids.
The TV special, "Pathway to Hope," looks at how Evangelism Explosion (EE) is using Hope for Kids to reach children around the world with the Gospel and equip them to win their world for Christ. The program airs Sat., July 28, and Sun., July 29, on the nationally broadcast Truth That Transforms television program. See here for local listings.
"Statistics show that the majority of Christians come to Christ between the ages of 4 and 14," says Dr. John B. Sorensen, president of EE International, a ministry that trains people, young and old, to share their faith in Christ.
"If a child receives the Gospel and is equipped to share the Good News, then the Gospel goes everywhere they go," says Sorensen, who hosts the "Pathway to Hope" TV special.
"Now, through a joint venture with the ministry of OneHope, called Hope for Kids, millions of children have the opportunity to hear that Jesus loves them and they also learn how to share their faith so that they know the joy of seeing their friends come to Jesus too."
EE's goal is to use Hope for Kids to reach 60 million children by 2015. "The plan is to equip 6 million children to share the Gospel with ten of their friends," Sorensen explained. "And we're doing it by partnering with churches worldwide who can help monitor the results. 60 million is not just a number to us it represents children whose lives will be impacted for eternity."
Seven-year-old Mojalefa, known as "Gift," is one of those millions. Gift, who appears on the "Pathway to Hope" TV special, lives with his mother in a shantytown outside of Pretoria, South Africa. Once so shy his mother thought he might not be able to speak, he now confidently tells friends about Christ and brings them to church so that they too can participate in the Hope For Kids program.
"I became a Christian because of Mojalefa," says Carrolla, a friend. "He invited me to go to church with him. Now I became a Christian and I love going to church."
Eleven-year-old Fijian Selai Vakaloloma gained confidence and learned to share her faith with both strangers and friends through Hope for Kids. Selai, who wants to become a doctor, says she has shared her lunch and the Gospel with a close friend. "From that day onwards she accepted Jesus and she says she has changed a lot."
Now in his 20s, Travis Smith grew up in Chicago's Cabrini-Green housing project, a place, he says, "where nowhere is safe." He escaped a life of drugs, gangs, and violence after becoming a Christian at age 16 through Kids EE, the method for communicating the gospel now used by Hope for Kids. The first college graduate in his family, Travis told fellow gang members he had to exit gang life after becoming a Christian. "I said it in full confidence. I gathered them all together, and I said, 'I'm out of this. I'm living it, a life for Christ. And guess what? You guys can come along, too.'"
"None of them hit me," Travis recalls on the TV special "Pathway to Hope." It was the first of many outreach opportunities as he and friends began to use Kids EE on the streets with people who "hadn't really heard the Gospel presented in a creative way, such as Kids EE, just as I hadn't growing up in Cabrini Green."
Based on the successful Kids' EE discipleship training ministry from EE International, Hope for Kids was developed through a joint effort between EE and OneHope. What sets Hope for Kids apart is that its high-quality training and materials are free to churches, to children, and to the friends they reach. The materials include a Teacher's Manual, Student Activity Book, and the Pathway to Hope witnessing booklet.
Click here to learn more about Evangelism Explosion's Hope for Kids global outreach.
INTERVIEWS
To interview Dr. John B. Sorensen, president of Evangelism Explosion, please contact Debbie Revitzer, EE Director of Communications, at drevitzer(at)eeworks(dot)org, or call 954.496.3738.