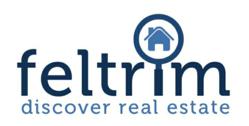 "Feltrim believes social media is the present and the future, which is why they're currently working to complete an overhaul of their site..."
Davenport, FL (PRWEB) July 26, 2012
Feltrim.com is said to completely transform their entire website come the end of this month. Their current website launched back in 2010 and has proved very useful to Feltrim's agents and consumers, but now they're looking to further their web presence with a site redesign.
Currently, Feltrim.com allows visitors to search properties based off particular homebuyer stipulations (i.e. price and property type) or Florida areas, which are separated on a land area map. The updated Feltrim.com will expand upon this concept by giving homebuying hopefuls an option to search for properties or areas in regard to social concerns.
Welcome social media. Feltrim believes social media is the present and the future, which is why they're currently working to complete an overhaul of their site to make a social media and real estate portal. This will allow users to get the entire story of the location they are looking to purchase right from their website. It will operate under a high-level of functionality that will list relevant results pulled from sites such as Yelp, CareerBuilder, Onboard, Groupon, Weather.com, Fandango, and Flickr, correlated to searched properties. The social media portal will also draw pertinent results from social networking sites like Twitter, Facebook, and Yelp. This type of integration is new to the online home buying process thus far, but it is not unfathomable. By incorporating social media into users' searches, Feltrim will be providing results that accommodate to the modern needs of today's society.
A number of sites have already been utilizing intelligent search functionality as a technique to give users something more. But until now, the real life social effects were nowhere to be seen. Together, the site will be much more dynamic and base information on the users' needs and wants.
The social media portal will work hand-in-hand with Feltrim's Florida real estate portal. Visitors to the site can choose to use either, and the results will weigh heavier on one end depending upon which portal was chosen. Furthermore, Feltrim.com users will be able to additionally contribute to the social media portions of the site by commenting and/or making recommendations on different vendors, properties, and locations.
Combining all of this information and interaction will give Feltrim's clients a fuller home buying experience that caters to the growing trends of today's online businesses: pooling a plethora of information and social data to allow consumers to make educated, trusted buying decisions.
Feltrim is a dynamic, social property portal that delivers content to users based on their unique values, lifestyles, and individuality. Feltrim was founded in 2010 and holds its headquarters in Davenport, Florida. Follow them on Facebook (facebook.com/Feltrim) or Twitter (twitter.com/feltrimdotcom).
###