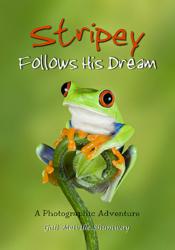 "There has never been a children's movie with a red-eyed tree frog, the most beautiful creature in the rainforest, as the main character!"
Hollywood (PRWEB) July 30, 2012
Gail Shumway's rainforest adventure for children, Stripey Follows His Dream, won honorable mention at the 2012 Hollywood Book Festival. The Hollywood Book Festival honors books that deserve further attention from the film, television, and multimedia communities. Gail was honored with her award at the Roosevelt Hotel in Hollywood, on Saturday, July 21.
Stripey Follows His Dream is a heartwarming rainforest adventure about Stripey, a beautiful nocturnal red-eyed tree frog that sets out to follow his dream to see the rainforest in the daylight for the very first time in his life. During his exciting journey, Stripey encounters many new incredible jungle friends. He learns how essential all of them are to the rainforest. Most importantly, he finds out how much fun it can be to follow your dreams! The 60-page hardcover book includes 48 color photographic illustrations by the author. http://www.gailshumway.com
Children love Stripey and they ask the author frequently, "When is the 'Stripey' movie coming out? Gail believes it would make a beautiful animated film for children. She says, "There has never been a children's movie with a red-eyed tree frog, the most beautiful creature in the rainforest, as the main character!"
At a local book signing Gail recalls one grandmother who bought the book for her grandson. Later that day, she came back to tell Gail that her grandson loved the story so much, and thought it was so special, that he was going to save the book to give to his children one day.
The book has earned a number of awards, including Mom's Choice Gold Recipient, Literary Classics Gold Recipient (Best Illustrator), Benjamin Franklin Award (Best Interior Design, Children's/Young Adult), Moonbeam Children's Book Award (Best First Book-Picture Book), National Indie Excellence Awards (Book Cover Design), International Book Awards (Best Interior Design), International Book Awards (Best Children's Picture Book Hardcover Fiction), Kart Kids Book List, The South Jersey Children's Literary Festival, and the Children's Literary Classics Seal of Approval.
Gail has been a professional wildlife photographer for over twenty-five years. She feels grateful to have found her passion for photography and writing through which she can share her love of nature and teach children to appreciate the miracle of life and the beauty of planet earth.
Stripey Follows His Dream (published by Snow in Sarasota Publishing) is available for $19.95 at http://www.gailshumway.com and on iTunes iBooks as a "read-aloud" e-Book. http://itunes.apple.com/us/book/stripey-follows-his-dream/id496431367?mt=11
Ages 4-10, the young at heart, and frog lovers of all ages!