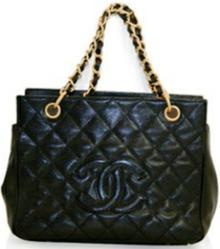 You have to go to the big cities to get the handbags you deserve. Now you can go online and get your favorite bag at a "preowned" price.
Destin, FL (PRWEB) July 27, 2012
LuxExchange, located in Destin, FL, was opened with the idea that customers shouldn't have to travel to big cities to find authentic designer handbags. The shop opened in April of 2012 to bring the luxury shopping experience to Destin. At the beginning of July LuxExchange will take this concept a step further. They will be offering customers across the United States online access to its extensive selection of high-end designer handbags and accessories, with brands that include Louis Vuitton, Prada, Gucci, Fendi and Chanel.
Melanie Schweizer, the owner of LuxExchange, was not satisfied with simply bringing designer accessories to consumers in the Destin area. Her ultimate goal was to bring the high-end shopping experience to customers across the nation. By using the many tools available online, LuxExchange has been able to create an online presence so customers can shop for all their favorite designer goods right from home. As Melanie says, "you used to have to go to the big cities to get the handbags you deserve, but now you can go online and get your favorite bag at a "preowned" price."
With the upcoming opening of LuxExchange's online boutique, customers will be able to view the current inventory at the click of a mouse. In addition to its online store, LuxExchange also connects with customers using social media. Consumers are encouraged to follow the company on Facebook and Twitter to keep up with current trends and special offers. LuxExchange has also formed an email mailing list. Subscribers will receive periodic newsletters where they can find out what's happening at the LuxExchange boutique. With so many ways to connect and shop online, LuxExchange has made it simple for shoppers to find beautiful designer handbags at affordable prices.
About the company:
LuxExchange opened on April 5, 2012 and is located in the City Market shopping center in Destin, FL. LuxExchange is a high end luxury consignment store where one can buy, sell and consign high-end authentic brands of luxury handbags, women's shoes, fashion jewelry, sunglasses and women's watches. For more information stop by 36150 Emerald Coast Parkway, Destin, Suite 103, FL 32541, check out the website http://www.myluxexchange.com or call 850-424-7772. LuxExchange is bringing authentic luxury high end bags and accessories at a discounted rate nationwide.