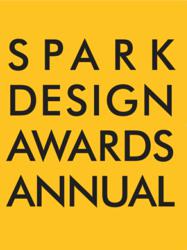 New York, NY (PRWEB) July 31, 2012
The Spark Design Awards is announcing the imminent publication of the Spark Design Awards Annual, reported the book's Editor, Peter F. Kuchnicki.
"We are delighted to publish our first Spark Design Awards Annual," Kuchnicki related. "It's full of compelling designs that have won Spark Awards during the 2011 season."
The book covers three competitions and includes the winning designs of the Spark:Pro, Spark:Concept Spring and Spark:Concept Fall events.
Book Rollout
First shipments go out on a priority basis to the winning designers. Sales to the industry and public begin August 25. Spark is taking pre-orders now, with a special offer to Spark Community members. The book's list price at Amazon (and other fine booksellers) will be US $85.00 plus shipping.
Spark Community members receive a 25% discount and joining the Spark Community is free (entering the competitions is not required). Interested parties may contact the publisher via email at SparkBook(at)sparkawards(dot)com or visit: here
Masthead
"A visual treat" as described by Kuchnicki, the book is primarily an exercise in design. "Both in execution and subject matter, the Spark Annual is testament to highly refined design talents." The book design was created by Kit Hinrichs and art directed by Gloria Hiek, both of [Studio Hinrichs and executed by Spark consulting art director, Myrna Newcomb. Book editorial was handled by Kuchnicki and editorial consultant, Andrew Palumbo.
Crossroads of Design
The Spark Annual contains images of many types of design, from architecture to products, interface design to packaging. A number of well-regarded universities are represented, as well as design firms and manufacturers. "All the great ones are here," said UC Berkeley educator Clark Kellogg, a strong advocate (and creative director) of the book. "The work of designers and architects like Yves Behar, Edwin Schlossberg, Peter Stathis, Bob Brunner, Isay Weinfeld and many others make this book the perfect educational resource for designers and teachers. All schools should have a copy in their library."
Best of All
"This book will help the included designers to build their careers, gain new business—and of course, to show off to mom and dad." laughed Kuchnicki. "But we are especially pleased to see the mission of Spark reflected on these pages: The real goal is betterment—better lives, better understanding, better health, better environment—and great design can help us get there."
2012 Competition Call For Entry In Effect—Winners In Next Book
Five great competitions are now open for entries. The winners of the 2012 Spark:Concept Awards, Spark:Communication Awards, Spark:Product Awards, Spark:Spaces Awards and the Spark:Mobility Awards will become the stars of the next Spark Annual, to be published in 2013. Designers may enter these competitions after registration. Event organizers have created a website to facilitate this process, at https://competitions.sparkawards.com/.
More information about this organization and these competitions can be found at the Spark website..
Special Request to Designers For Documentation
To discover the process and track the "back story" behind Spark design submissions, Spark asks all designers to document their design's creative genesis. Spark encourages designers to retain their models, and photograph and videotape critical points in development, document all examples (including mistakes and misdirections) and analyze in writing what is developing.
This is for archival, ownership and educational purposes—and for potential Spark usage in exhibitions, publishing, SparkTV and on their websites and blogs. It's excellent exposure for the designers' work, helping to tell their story in multi-media. Spark Creative Director Kellogg makes it clear, "Don't miss out—buy a little camcorder and start cranking. Your work deserves it—and who knows--maybe you're the next Ridley Scott!"