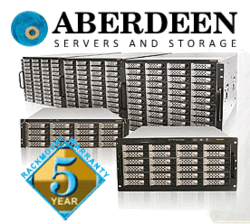 You can now get as much as 16TB of storage in a 1U model or up to 264TB in an 8U rackmount configuration.
Santa Fe Springs, CA (PRWEB) July 28, 2012
Aberdeen's S tirling and AberNAS solutions have always been able to provide large amounts of storage, whether it was up to 198TB in a single server or as much as 1PB (petabyte) in an array. However, the company has now included support for Hitachi's Nearline 24/7 4TB SATA hard disk drives, which improves on efficiency and provides even more raw storage capacity than ever before. In fact, companies can now get as much as 16TB of storage in a 1U model or up to 264TB in an 8U rackmount configuration.
This increase in capacity per hard drive makes it possible to pack more available storage into each system without the need to invest in additional servers. In addition to cutting down on equipment expenditures, the added capacity can also help free up some much needed space in a data center or even aid in the consolidation process. As with all Aberdeen products, these configurations are highly customizable, so companies can get the exact amount of storage needed at exactly the right size.
Stirling Scalable Storage Servers
In addition to the newly added support for 4TB hard drives, Aberdeen's Stirling Scalable Nearline Storage Servers are also packed with many other helpful features for data centers. Each Stirling server utilizes Intel's 5520 Chipset, Intel® Xeon® Processor 5600 series, and Intel microarchitecture with Turbo Boost Technology. Aberdeen's Stirling servers also feature up to 192GB of DDR3 memory, a maximum bandwidth of 32GBps, and much more. All Stirling servers are available in RAID 6, 0, 1, 5, and 10 configurations with more than 1200MBps transfers. By combining all of these technologies into one solution, data centers can expect superfast processing speeds and reliable performance.
Aberdeen also has four specific Stirling configurations with Intel® Xeon® Processor 5600 onboard. The first is the 3U X339, which supports up to 16 hard drives and up to 64TB of capacity. The 5U X539 supports up to 24 hard drives and as much as 96TB of storage. The two 8U models, the X889 and the X899, have space for 48 and 64 hard drives and up to 192TB and 256TB of storage, respectively. Because these systems are highly customizable and can be easily combined to create an array, Aberdeen also added the option of expandable SAS2 storage up to 1PB and beyond.
For those in need of scalable, high-capacity NAS solutions, Aberdeen offers its AberNAS line of products designed to work with the specific operating system chosen. For instance, the AberNAS LX-Series works with 64-bit Linux environments and the AberNAS X8-Series is designed for the Microsoft Windows Storage Server 2008 OS. Aberdeen also has a 32-bit Windows Storage Server 2003 R2 entry-level AberNAS model and other Linux-based solutions.
For companies using Linux-based operating systems in need of massive virtualized storage arrays, the AberNAS LX-Series has many great features. It now supports up to 8EB (exabytes) of storage and, with this immense level of available storage, Aberdeen has also included an easier to use GUI for 64-bit Linux environments so it's much easier to manage hard drive arrays.
Aberdeen's AberNAS solutions are flexible in that companies can have as much as 264TB of storage in a server to as little as 2TB in a 1U configuration. They feature support for RAID 0, 1, 5, 6, 10, and JBOD and SATA 3Gbps or 6Gbps disk drives. In addition, these storage solutions are protected with snapshot data recovery, hardware redundancy, and redundant hot-swappable power supplies.
Customizable & Scalable Solutions
As always, Aberdeen's tech experts are available to help administrators configure the Stirling and AberNAS storage solutions to their exact specifications. The products are designed for companies of all sizes, from a small business to the largest enterprise. Plus, the Stirling and AberNAS solutions can grow alongside a company, leaving enough space to quickly and easily scale maximum storage capacity.