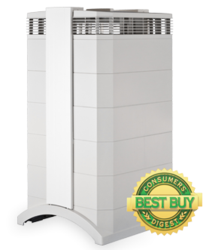 "We are excited about our partnership with Zadoozy," says IQAir CEO Glory Dolphin. "They have done an unbelievable job . . . , and it's clear that the way in which they conduct their business is as important to them as the products they offer."
Vernon Hills, Illinois (PRWEB) July 27, 2012
Zadoozy, a national ecommerce company specializing in top performing products for the home, today announced it has sold more of the incredible IQAir air purifiers than any other brand since it launched its website last year.
In addition to IQAir, Zadoozy markets a number of other premium air purifiers online and on its showroom floor according to Matt Delfino, a principal and co-founder of the company.
The company didn't give numbers on individual brands, but did say that since Zadoozy launched its website on Friday, November 18, 2011, it has sold 15 IQAir HealthPro air purifiers for every 10 it has sold of all other brands combined.
"It's obvious that the HealthPro series is simply one of the hottest air purifiers lines out right now," says Delfino. "The HealthPro Plus has received more #1 reviews than we can shake a stick at, including Consumer's Digest Best Buy Award and Newsweek."
The IQAir HealthPro series has cutting-edge features that bring together groundbreaking tech and sophisticated style in a modular tower design to clean the air people breathe. IQAir has three different models in its HealthPro line-up—the HealthPro Compact, the HealthPro and the HealthPro Plus.
"We are excited about our partnership with Zadoozy," says IQAir CEO Glory Dolphin. "They have done an unbelievable job in a relatively short period of time, and it's clear that the way in which they conduct their business is as important to them as the products they offer."
Offering only the best of the best, Zadoozy, a take on the slang term 'doozy,' meaning something that is extraordinary, has tested hundreds of products and markets only those that have passed their toughest tests. The company caters to the needs of busy consumers who don't have the time to comparison shop for themselves and their families, and prides itself on providing superior customer service when helping shoppers select the product that is right for them.
Zadoozy is so confident that shoppers will love their products that they offer a 90-day money back guarantee.
Headquartered at 1000 Butterfield Road, Suite 1029 in Vernon Hills, Illinois, Zadoozy is an authorized dealer for each brand they sell, including Austin Air and IQAir air purifiers, SEBO and Miele vacuum cleaners, Miele and Jura espresso machines, Sunpentown and Stadler Form humidifiers, Hurom slow juicers, and Vapamore and Ladybug steam cleaners. Zadoozy is a proud member of the Safer Chemicals, Healthy Families coalition, a nationwide effort to protect families from toxic chemicals. Shoppers can keep abreast of the latest news with Zadoozy's Twitter and Facebook accounts, @zadoozy and http://www.facebook.com/zadoozy.