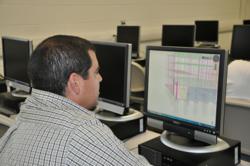 IMPACT gives our Contractors what they need to grow and thrive.
Washington, D.C. (PRWEB) July 27, 2012
The Ironworker Management Progressive Action Cooperative Trust (IMPACT) salutes the more than 30 Ironworker Contractors who attended IMPACT Contractor Courses, July 17 – 19, at the 28th Annual Ironworkers Instructor Training Program in Ann Arbor, Mich. These Contractors have taken bold steps to be more competitive and grow market share in the ironworking industry:
Ben Hur Construction Company
Bennett Steel, Inc.
Bosworth Steel Erectors, Inc.
Bower & Associates, Inc.
Corona Steel, Inc.
D M Ironworks
Danny's Construction Company, Inc.
J & L Steel Erectors
JM Steel
Lemoi Erectors, Inc.
Lintec, LLC
NAES Power Contractors
Papp Iron Works, Inc.
PRO Services, Inc.
Quinco Steel, Inc.
REFA Erection, Inc.
Safe Iron, LLC
South Bay Ornamental
Southern Steel & Construction, LLC
Superior Erectors, Inc.
The American Group of Constructors
TSI / Exterior Wall Systems
IMPAC T offers Contractor Courses every day of the year through Webinars and interactive online training. Live courses are also available at the annual North American Iron Workers/IMPACT Labor-Management Conference, and during the Annual Ironworkers Instructor Training Program. This year, IMPACT featured a never-before-offered, three-day course on Building Information Modeling (BIM), in addition to "Getting Paid," "Effective Project Management" and "Cost Estimating and Bidding."
"Thanks for a wonderful way of advancing my business by offering the Contractors these classes. The interaction with other companies who are also dealing with these same problems really helps," said Linda Beaulieu, who attended three of the four courses. Beaulieu is President of Lintec, LLC, a contracting company in Andover, Conn.
IMPACT has enjoyed consistent increases in attendance at Contractor Courses since their launch in July 2011. Based on incredibly positive feedback this summer, IMPACT will expand courses in the future.
"We are dedicated to realizing the vision of our IMPACT Co-Chairs, William Brown, President of Ben Hur Construction Company, and Walter Wise, General President of the Iron Workers, which is to double Ironworker market share by 2020," said IMPACT CEO Kevin Hilton. "IMPACT gives our Contractors what they need to grow and thrive."
Contractors and Ironworkers can learn more about IMPACT's Contractor Courses online at http://www.impact-net.org. A complete listing of all upcoming courses is available under "Programs," "IMPACT Construction College."
About IMPACT (http://www.impact-net.org):The Ironworker Management Progressive Action Cooperative Trust (IMPACT) is an independent labor-management partnership designed to create work opportunities in the North American ironworking industry. Our primary mission is to provide a forum for Ironworkers and signatory contractors to discuss effective strategies to expand job opportunities through innovative labor-management cooperative programs. IMPACT provides expertise in training, construction certifications, marketing, construction project tracking and bidding, insurance and Davis-Bacon compliance efforts. IMPACT also administers a world-class substance abuse program to ensure that Ironworkers are safe, drug-free and ready to work.