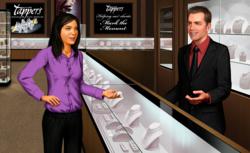 "Logi-Serve is a best-in-class, nationally recognized assessment tool to scientifically predict a prospect's service and sales excellence." — Mark Tapper, President of Tapper's
Farmington Hills, MI (PRWEB) July 30, 2012
Logi-Serve, a new leader in assessment and development tools for global enterprises of all sizes, has executed a multi-year service agreement with Tapper's. Under this agreement, Logi-Serve will provide Tapper's with its leading edge sales and service excellence screening and development tool. Tapper's is a multi-generation family-owned diamond and fine jewelry business with three locations throughout Metro Detroit.
"We pride ourselves in providing an unmatched, tailored luxury shopping experience to every customer. Logi-Serve is a best-in-class, nationally recognized assessment tool to scientifically predict a prospect's service and sales excellence — it just fits," commented Mark Tapper, President of Tapper's. "I am excited to use Logi-Serve's innovative technology continue to build on Tapper's culture of world-class service excellence."
About Tapper's
Michigan's most trusted jeweler since 1977, Tapper's offers an unparalleled level of customer service and an outstanding selection of the highest quality diamonds, fine designer jewelry and luxury timepieces. Tapper's has been helping clients Mark the Moment of special occasions and lifecycle events for over 30 years, and pride themselves on providing personalized service. With three convenient locations serving the metro Detroit community, Tapper's continues to exceed customer expectations. Tapper's provides a luxury shopping experience with unparalleled customer service to all guests.
About Logi-Serve
Logi-Serve is an IP development company with a global web-based assessment and development platform combining unique and revolutionary patent pending Visual Logic™ storyboarding technology with an advanced Triangulation™ science assessment methodology. This platform represents a best-in-class testing system that is predictive of a new hire's potential performance and/or an existing employee's ability to perform. The first in a series of products is the Logi-Serve service excellence screening and development solution which can be aligned to customer satisfaction and operational metrics to increase revenue and reduce costs.
A team of Ph.D. organizational psychologists designed Logi-Serve to be the first truly modern competency based assessment tool. Logi-Serve provides an appealing, immersive experience that has proven to be accurate in predicting how employees will perform in the workplace. Current scientific research demonstrates that posing questions within the context of the job elicits accurate responses from prospective hires and employees. Logi-Serve delivers this capability using a proprietary multi-dimensional testing method based on three valid assessment protocols ( Triangulation® Science). This unique approach can prevent costly hiring mistakes and help develop employees to their full service and sales excellence potential. Logi-Serve has already won national awards and recognition including 2012 Publisher's Choice Product of the Year Award from Customer Care News.
For more information view the Logi-Serve website at http://www.logi-serve.com, email sales@logi-serve.com, or call +1 800 698 0403.