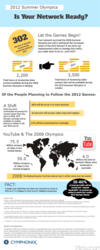 "Some employees will enjoy the viewing, but most network admins and business line managers are going to be pulling their hair out."
Salt Lake City, UT (PRWEB) July 26, 2012
With just hours until the start of the Olympics, most businesses have no idea what's about to hit them next week: hours and hours of bandwidth gobbling, streaming HD video of every…single…event. That equates to 3,500 hours of streaming video. Employees accessing even a fraction of that content can easily bring an organization's Internet to a crawl while tanking employee productivity.
Today, Cymphonix released an infographic illustrating the impact that the Olympics will have on Internet traffic.
"We're excited for the Olympics," stated Brent Verhaaren, Cymphonix Director of Marketing. "It's a great event. It brings harmony throughout the world. Unfortunately, though, the amazing technology that allows us to view every event online is going to bring down a lot of businesses' networks because they don't have a product to manage their Internet traffic and bandwidth. Some employees will enjoy the viewing, but most network admins and business line managers are going to be pulling their hair out."
Companies looking to mitigate the impact that consuming content like the Olympics has on both network performance and employee productivity are encouraged to contact Cymphonix today at 866 511-1155 or http://www.cymphonix.com.
About Cymphonix
Cymphonix makes the Internet run better so organizations can focus on their core missions. As the demand for content grows exponentially, the ability to manage bandwidth, prioritize traffic and applications, and control content is taxed to the extreme. The Cymphonix line of Internet Management network appliances helps organizations quickly, easily and clearly understand their traffic then set and enforce usage policies that work. The result? Better performing Internet connections for less work and effort. For more information, please visit http://www.cymphonix.com.