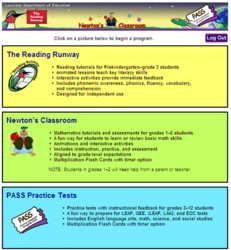 The PASS system was developed a decade ago with the future of testing in mind.
Monterey, Calif (PRWEB) July 27, 2012
Pacific Metrics Corporation (http://www.pacificmetrics.com) announces the 10-year anniversary of the Louisiana Department of Education's web-based Practice Assessment/Strengthen Skills (PASS) system. Originally developed in May, 2002, PASS is an interactive and engaging online system that integrates instruction and assessment in mathematics, English language arts, science and social studies for K–12 students, supporting over 19 million student logins since inception.
The PASS Practice Tests provide Louisiana students the opportunity to independently practice test taking in each content area in a format that is similar to the yearly high-stakes assessments. The practice tests familiarize students with the testing format, types of items and the online testing environment with the goal of increasing their confidence, minimizing test anxiety and developing content mastery. Students receive immediate instructional feedback and learning strategy suggestions for improving content knowledge and testing skills. The system features a range of item types. Many of the constructed-response items are scored using Pacific Metrics' automated scoring system, CRASE™. PASS also includes resources for students and parents, including instructions and demonstrations, interactive tools, audio functionalities and score reports. An email-based help desk is available for teachers, parents or students to assist with user issues or to answer questions about the system.
The PASS Practice Tests are divided into three unique, graphics-based environments:

Newton the Nutria—An entertaining trip through a Louisiana bayou for students in grades 3–5
Remo the Rocket Scientist—An exciting journey to outer space for middle school students
Global Positioning System—An engaging GPS-themed tour around the world for high school students
The PASS system also includes math and literacy instructional programs based on Louisiana's curriculum and grade-level expectations:

The Reading Runway—A literacy program with interactive lessons and practice of key reading skills designed for Prekindergarten – grade 3 students
Newton's Classroom—An animated mathematics instruction and assessment program for students in grades 1–8
"The PASS system was developed a decade ago with the future of testing in mind," says Christine Broz, Instructional Design Specialist at Pacific Metrics. "The PASS system has continually kept pace with changes to the state's educational standards and will continue to do so with the introduction of the Common Core State Standards."
The PASS system, the most successful K–12 online practice test program in the country, provides a valuable, interactive web-based practice environment to prepare Louisiana's students for next generation online assessments. For more information about PASS or any of Pacific Metrics' assessment solutions, email info(at)pacificmetrics(dot)com or call (831) 646-6400.
About Pacific Metrics
Pacific Metrics Corporation creates lasting improvements to the assessment and learning environment through the thoughtful use of technology. Headquartered in Monterey, California, Pacific Metrics provides specialized psychometric software and sophisticated online systems to state departments of education and to organizations that develop, administer, and score large-scale assessments. The company has achieved recognition for its technical work and for being a leading force in the development of innovative, customized, web-based systems. For more information, visit http://www.pacificmetrics.com.