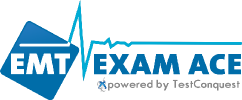 This EMT-Intermediate online course is designed to be the only study guide you will ever need to touch.
Boston, MA (PRWEB) July 27, 2012
Studying for the EMT-Intermediate certification exam? Boston-based EMT Exam Ace has just what you need: an extensive EMT-Intermediate online course that offers a viable alternative to dense textbooks and overpriced classes.
"This EMT-Intermediate online course is designed to be the only study guide you will ever need to touch," says Samantha Tanzer, product development manager at TestConquest, the parent company of EMT Exam Ace. "Once you are subscribed, you will have unlimited access to all content with your unique login credentials so long as you have internet access."
The EMT-Intermediate online course is the second program to be released by EMT Exam Ace following the popular EMT-Basic online course. The EMT-Intermediate online course covers all EMT-I/85 exam topics, as well as bonus EMT-I/99 topics as well, for those who seek more knowledge than the I/85 exam but are not at the paramedic level. As always, all of the questions in each product were written and edited by expert certified EMTs.
"The price is unbeatable for all the unlimited content at your fingertips for a full three months," says Ted Chan, founder of TestConquest. "The course is packed with 1,200 questions and contains detailed answers and review material."
One of the online review course's key features is its question bank user interface. Users may select from three powerful study and simulations modes, including study mode, quick quiz, and practice test. Study mode allows users to answer questions at their own pace, whereas quick quiz is ideal for those who seek short timed quizzes. The practice test is unique in that it simulates the question distribution, timing, and environment of your actual NREMT cognitive exam on test day.
EMT Exam Ace guarantees a passing score. "We are thoroughly confident that all of our EMT products will help you fully prepare for the NREMT exam," says Chan. "If not, we are happy to extend your membership until you pass."
The EMT-Intermediate online is offered at an introductory low price of $49.99. In addition, students, military personnel, teachers, and civil servants with valid credentials are eligible for special discounts found on the EMT Exam Ace website.
About EMT Exam Ace and TestConquest
EMT Exam Ace is an upcoming website that provides comprehensive online review courses at the EMT Basic, Intermediate, and Paramedic levels. Boston-based TestConquest, its parent company, is an educational enterprise providing professional certification preparation solutions. Visit http://www.emtexamace.com to learn more about how you can ace EMT certification.