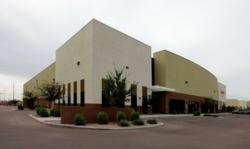 Montreal, Quebec (PRWEB) July 26, 2012
Dalfen America Corp. (DAC), a private equity real estate firm headquartered in Montreal, Canada, announced the acquisition of 3 Class A industrial REO buildings in Chandler, Arizona.
Warner Commerce Park was built in 2008 and consists of 2 Class A industrial buildings totaling 85,000 square feet. The property was acquired from US Bank.
Built in 1997, Eastpoint Business Center is a 77,225 square foot, institutional quality, multi-tenant industrial building and was purchased from CIII Asset Management.
"As is the case with many of the assets we have recently purchased, we tracked these properties for well over a year, submitting multiple offers to the sellers. Hard work, persistence, in depth market analysis and an unwavering reliance on property level fundamentals have enabled us to consistently acquire top quality real estate." says Sean Dalfen, Principal and Executive Managing Director. Dalfen also stated, "We truly believe in the Phoenix market and our goal over the next 24 months is to establish a strong presence through continued industrial property acquisitions and ground up development."
Robert Kurlender, DAC's Director of Acquisitions, is very pleased with the recent Phoenix acquisitions, adding "the Warner property is extremely well positioned to take advantage of the uptick in user demand for standalone buildings in the Southeast Valley and Eastpoint's 7,000 to 20,000 square foot suite size range makes it an ideal project to cater to the needs of tenants in the Chandler market."
DAC has become one of North America's most active private equity real estate groups, having transacted on 35 buildings and 2 million feet of prime development land, over the past 18 months. Through their current opportunistic industrial fund, they have acquired 29 institutional quality industrial buildings in 7 states.
About Dalfen America Corp.
Dalfen America Corp, the US arm of Dalfen's Ltd., is a private equity real estate firm headquartered in Montreal, Canada, with regional offices in Orlando, Dallas and Tampa. Through its investment funds and separate accounts, DAC acquires and manages commercial properties and securities throughout North America.
For more information visit: http://www.dalfen.net