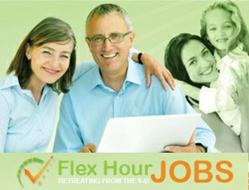 interviewers can usually tell whether or not you are an ideal candidate within minutes of seeing you.
Las Vegas, NV (PRWEB) July 26, 2012
The Resume and Interview Professionals at Flex Hour Jobs have noticed an increase in the number of job applicants seeking professional advice in preparation for an important interview. This is a good idea since interviewers can usually tell whether or not you are an ideal candidate within minutes of seeing you.
For those preparing for an interview, the team at Flex Hour Jobs would like to share their list of Top Ten Things to Consider when looking to succeed in an interview. They include:
1. Preparing for the Telephone Interview. Try to be advised ahead of time so that you can schedule it and practice with someone else first. Without the advantage of body language, you need to be able to come across enthusiastic on the phone.
2. Video Interviews should be Treated as Importantly as In-Person. Clothing worn during a Video Interview should be interview-appropriate. Your computer settings should be tested to ensure minimum static and no distracting backgrounds.
3. Questions should be Well-Prepared For. The Flex Hour Jobs Team suggests creating a grid-style cheat sheet of questions with bullet point answers to practice before-hand.
4. Know the Name of your Interviewer. Call or email ahead to get the specific name and title of the person who will be interviewing you. Do research online if possible to show you have done your due-diligence.
5. Pay Attention to your Apppearance. Take care to ensure your wardrobe is clean and intact as well as pay attention to your facial expressions, body language and the way you greet people as well as what you say.
6. Be Respectful to Everyone you Meet. Many interviews have been lost by the impressions made on receptionists and others well before an applicant even made it to the Interview Room.
7. Arrive on Time. Nothing shows a lack of interest and responsibility more than arriving late and not composed. If necessary, practice the drive a few days ahead of time in similar traffic.
8. Have Questions for the Interviewer. Many interviewers will think something is wrong if you don't have questions yourself. Research the company and position and have your question ready.
9. End the Interview with Next Steps Defined. When the interview is over, shake the person's hand and ask what the next step in the process is and when you can expect to hear from them.
10. Extend Thanks. As soon as you get home, write a thank-you letter to each person who interviewed you. Many job applicants mistakenly ignore this very important step.
Flex Hour Job's Resume and Interview Coaching Services start at only $30 aiming to keep them attainable for the many on limited budgets. The site specializes in telecommuting, part time, season and project work. It is free to use and was created for Baby Boomers not ready to retire and Stay at Home Moms / Caregivers who want to continue working professionally , but not the traditional 9-5 in an office.
For more information, you can contact them at Info(at)FlexHourJobs(dot)com, follow them on Twitter @FlexHourJobs or "Like" them on Facebook/FlexHourJobs