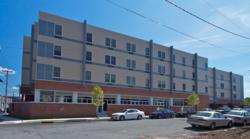 Paterson, New Jersey (PRWEB) July 30, 2012
Eva's Village, (http://www.evasvillage.org), a comprehensive anti-poverty nonprofit in Paterson, New Jersey recognizes the number of obstacles clients and residents have in finding sustainable employment. These obstacles include: poor job skills, lack of job experience, no transportation to jobs outside city limits, accessible transit and criminal record.
There is a recent trend toward employing social enterprises within charitable organizations. A number of successful business models exist for such enterprises, including Goodwill Industries, which generates revenue by contracting with businesses and government to provide a wide range of commercial services, including packaging and assembly, food service preparation, document imaging, document shredding and more.
The board of directors of Eva's Village investigated possible industries for a social enterprise venture and since they had operated Eva's Kitchen, an increasingly sophisticated food service operation for 30 years, decided a food service training program would be ideal. A food service training facility provides a number of benefits. The food service industry is a driving force in New Jersey. According to the New Jersey Restaurant Association (NJRA), approximately 23,000 eating and drinking establishments generate $11.8 billion in annual sales and employ over 300,000 people, making it the State's largest private sector employer.
The Food Service Training Academy at Eva's Village will provide low income residents with job skills training, food service training, industry certifications and an opportunity to gain employment. The ultimate goal is for them to have the potential to earn a living wage and to live without reliance on charitable and government assistance programs. "We are fortunate to have already received start-up funding for the operating cost of the food service training academy," stated Marie Reger, executive director of Eva's Village. "At this time we are seeking funding to equip the facility with the necessary appliances to open our doors."
Founded by Msgr. Vincent E. Puma in 1982 as a response to the poor and homeless in Paterson, NJ, Eva's Village is a non-profit comprehensive social service organization. Through almost three decades of service, Eva's Village has established a unique record in facing community challenges and changing the lives of the hungry, homeless and addicted. It has grown from a simple soup kitchen to become the most respected anti-poverty program in New Jersey. It now includes fourteen integrated programs housed in numerous buildings spanning several city blocks in downtown Paterson.
For more information about the Food Service Training Academy at Eva's Village, call or email Donna Marie Fico at 973.523.6220 ext. 230 or [email protected] To find out more about Eva's Village or to make a donation go to http://www.evasvillage.org.