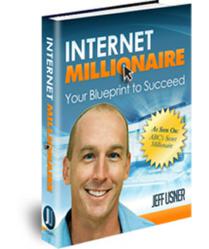 "providing training and mentoring to business people"
San Antonio, TX (PRWEB) July 26, 2012
Business coach and mentor Jeff Usner has so much going on followers and supporters need a better grip to stay updated. To answer this challenge and make the latest information on the internet millionaire readily available, JeffUsnerMillionaire.com is launched as the next great place to stay in touch with all things from Jeff Usner.
A lot of events are brewing from the desk of the fast rising entrepreneur star. Among the many are appearances in the Secret Millionaire 2012, a new company called Profit Hub, and a highly anticipated book on online marketing titled Internet Millionaire: Your Blueprint to Success.
In recent years, Usner has called attention to himself by becoming a popular business coach and mentor for small and big businesses dabbling in online marketing. A self made millionaire in the same field, he has made himself a hot commodity by providing training and mentoring to business people and companies seeking to achieve what he has done. Usner runs several companies, among them LeadStore.com, with much success that others are hoping to emulate.
Fortunately, Usner generously fills this clamor by offering coaching and consultation services where he helps these business individuals come up with processes that take productivity to a whole new level and aid them in designing systems that boost the sales funnel and increase profit in the most effective and time sensitive manner.
The latest of the trainings coming from Usner is the new company ProfitHub.com, which is expected to become the hottest place for online marketers to sharpen their skills by learning the top methods and strategies of the leading marketers in the world. Usner facilitates this learning and guides members on how to start their own online business using the secrets of the pros as a guide or take an existing online company and enhance it with the help of tried and tested methods by the top innovators in the fields.
However, for those interested in the personal strategies of the internet millionaire, his new book Internet Millionaire: Your Blueprint to Succeed is available now for pre order, details of which can be found on JeffUsnerMillionaire.com. In this book, the author outlines the steps necessary to take any business from the bottom of the food chain to its peak in a few, manageable, and effective steps that he uses himself.
Also, JeffUsnetTV.com spills the dish on an upcoming appearance of Usner on the hit ABC show, Secret Millionaire. He is featured on the episode that airs on July 15 where he spends time away from his comfortable life and into the midst of a struggling community filled with unsung heroes that make life a great deal better for other people. Usner's real identity is hidden and only at the end of the show does he reveal himself in a dramatic climax where he blesses these unsung community heroes with hundreds of thousands out of his own generosity and change their lives forever. For more updates, go to JeffUsnerMillionaire.com as more announcements will be posted as the air date nears.
About:
Jeff Usner is a leading online marketer, business consultant, mentor, and philanthropist. He has created numerous successful companies online and has been coming up with events and products that will help and train other marketers to do the same. His specialty is designing systems and processes that transform ordinary businesses into big money making successes immediately. Both new and old businesses benefit from his strategies and he is a living proof to the effectiveness of what he teaches.