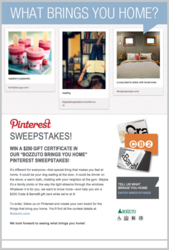 We thought this sweepstakes would be a fun way to learn more about what it is that takes a place from somewhere we just live to somewhere we call 'home'...
Greenbelt, MD (PRWEB) July 27, 2012
The Bozzuto Group, a Washington, D.C. area based real estate company, announced Wednesday that it would hold a sweepstakes, open to the public, on Pinterest. The competition asks, "What Brings You Home?" Bozzuto, which develops, builds and manages apartment communities and homes throughout the East Coast, hopes the competition will highlight those priceless facets of living that draw people back home.
Contestants can enter the sweepstakes by completing just four easy steps:
1. Follow The Bozzuto Group on Pinterest.
2. Create a board called "Bozzuto Brings Me Home."
3. Pin at least five images of the things they feel bring them home and include #Bozzuto in the description.
4. Leave a link to their board in the comments section of Bozzuto's "Bozzuto Brings You Home" Pintrest board.
Bozzuto will then repin one of the contestant's images and encourage others to like, repin, and comment on the pin. Every additional interaction on the "Bozzuto Brings You Home" board will earn the contestant another entry in the sweepstakes.
The sweepstakes will run from July 25 through August 1, 2012 and the winner will receive a $250 gift card to a home furnishings and housewares store.
"We are all drawn home for different reasons," said Jamie Gorski, senior vice president of Corporate Marketing, The Bozzuto Group. "We thought this sweepstakes would be a fun way to learn more about what it is that takes a place from somewhere we just live to somewhere we call 'home,' while at the same time leveraging the influence and power of social media to promote our brand."
The winner of the "What Brings You Home?" sweepstakes will be announced on Pintrest by August 2, 2012.
For those who do not have a Pinterest account, or are unable to create one, they can email at least three pictures of what brings them home to entry(at)bozzutosweeps(dot)com along with their name and address. This will count as one entry into the sweepstakes.
About The Bozzuto Group
Headquartered in the Washington, D.C., area, The Bozzuto Group is a diversified residential real estate company consisting of six integrated companies—Acquisitions, Construction, Development, Homebuilding, Land Development and Property Management—that together provide a broad range of real estate services throughout the Mid-Atlantic and Northeast. The company is committed to providing quality housing for individuals of all income levels, producing everything from luxury homes and apartments to affordable housing solutions.
Throughout The Bozzuto Group's 24-year history, the company has developed, acquired and built more than 35,000 homes and apartments, and the firm and its principals have been honored with numerous industry awards and accolades, including having been recognized by the NAHB as the nation's premier apartment development company, and twice as management company of the year. For more information, please visit http://www.bozzuto.com.