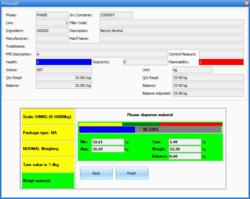 Ensure regulatory complaince while reducing risk
(PRWEB) July 28, 2012
Mar-Kov Computer Systems has released a free webinar presentation which provides education and best practices in dispensing and pre-weigh operations. The webinar includes an in-depth demonstration of the Mar-Kov CMS Dispensing Software Module.
Weighing and dispensing is a critical process for process and batch manufacturing industries. Companies are striving to eliminate the potential for error from the manufacturing process. The CMS Dispensing Webinar shows how to ensure regulatory compliance while reducing risk in this area, and is a critical step towards achieving EBR (Electronic Batch Recording).
This 46 minute webinar explains in detail every step of the weighing and blending processes and how best to optimize, improve, and eliminate human error in this area of manufacturing. The webinar demonstrates several scenarios including

Preweigh
Blending
Commingling
Compounding
Learn how barcode identification, step-by-step process policing and scale integration can dramatically improve your dispensing operation as you are guided through the weighing and blending process.
To view the Dispensing Webinar, go to: http://www.mar-kov.com/?show=dispense and click "watch now".