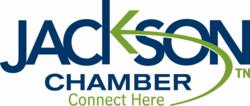 The new logo and brand identity are symbols of Jackson's renewed commitment to developing a top-notch economy with an attractive business environment.
Jackson, Tennessee (PRWEB) July 27, 2012
Jackson Chamber officials unveiled a new logo and brand identity that will be shared by the City of Jackson, the Jackson Convention and Visitor's Bureau and the chamber. The celebration of the refreshed identity was attended by city and county elected officials, many community leaders and a large number of chamber members.
"The new logo and brand identity are symbols of Jackson's renewed commitment to developing a top-notch economy with an attractive business environment," said Chamber President/CEO Kyle Spurgeon. "Our new brand reflects the modern vibrancy of Jackson and helps keep us competitive in a highly competitive world."
"As the chamber, our work must result in job growth, business attraction, expansion and workforce development, and a unified brand for our city to help set us apart," said Bobby Arnold, Chairman of the Board of Directors for the Jackson Chamber and President and CEO of West Tennessee Healthcare.
Jackson has informally but affectionately been known as the "hub city" for decades.
The new brand recognizes that important role for Jackson and emphasizes that today Jackson is connected by much more than roads, rail, river and runways. The new brand centers around the tagline "Jackson: Connect Here" reinforcing the message that Jackson is a great place to connect to business opportunities, a sustainable quality of life and strong, modern infrastructure.
"Jackson is America's Main Street," said Jackson Mayor Jerry Gist. "We are a major regional center for healthcare, retail, arts and entertainment that connects a population of more than a half million people. I'm glad we have a brand that reflects that."
"We are going to use this brand to showcase Jackson. In successful branding you need consistency and the City of Jackson is leading the way with that. You will see our brand on our signs and vehicles and we want that to generate pride in our fresh, updated image."
The new brand campaign and website are one of several initiatives in the Forward Jackson campaign, a $3.8 million, five-year economic development plan for Madison County. Forward Jackson is funded by local investors in the chamber. Other initiatives of Forward Jackson include regional and local economic development, education, wellness and public safety.
The new website's three main focuses are on the chamber, attracting economic development and promoting tourism. The tourism site features an all-inclusive community calendar that allows local residents and visitors to see up-to-date information on the latest happenings and events.
"The new brand is more than a logo, it is how we explain what Jackson has to offer visitors from nearby and around the world," said Lori Nunnery, Executive Director of the Jackson Convention and Visitors Bureau. "We are so excited to have a website that can help entice more visitors to Jackson – and the community calendar can be such an asset to everyone in Madison County and West Tennessee."
Jackson-based companies Younger Associates and Sodium Halogen worked together to develop the brand and build the massive website that incorporates many leading-edge tools and user-functionalities. Younger Associates is also directing the brand "roll-out" that is planned to raise Jackson's profile among economic development professionals, tourism promoters and potential visitors to the city.
Branding focus groups were conducted in January and February to define Jackson's new brand. "People knew what they liked about Jackson and it was interesting to hear the story unfold," said Sharon Younger, President of Younger Associates. "The theme of things connecting in Jackson came through so clearly – people feel that it all connects in Jackson."
The Jackson Chamber was founded in 1905 – seven years prior to the United States Chamber of Commerce. The Chamber consists of a diverse and talented staff, an executive committee, dedicated volunteers, and more than 1,500 business members – all committed to growing the economy and quality of life in Madison County. For more information about the Jackson Chamber visit http://www.jacksontn.com or call 731.423.2200.
-###-