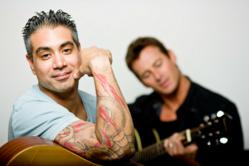 "From your first lesson, I will have you playing. And, I will inspire you to keep on playing. The guitar is not an easy instrument to play; but if you aspire to be an accomplished player; I can get you there.
Weston, FL (PRWEB) July 26, 2012
Guitar teacher Dyce Kimura is ecstatic about this story, and is offering something perhaps more enjoyable than mom's piano lessons: guitar lessons for the absolute beginner.
This is not the first such study that Hanna-Pladdy authored. These findings develop off an original study first published in Frontiers in Human Neuroscience in 2011. That original study revealed that students (of any age) with at least 10 years of instrumental musical training remained cognitively sharp in advanced age.
Her newest article quotes Hanna-Pladdy as stating, "musical activity preserves cognition as we age, by comparing variability in cognitive outcomes of older adults active in musical instrumental and other leisure activities." She goes on to note a wide array of cognitive benefits—including memory—was sustained for musicians between ages 60 & 80, when they played for at least 10 years throughout their lives. This is an important distinction, the old adage "if you don't use it, you lose" does not apply to musical study.
Music lessons at any age may even help prevent the onset of Alzheimer's later on. That's because studying music impacts a range of verbal and nonverbal functions and memory—typical targets of that disease—and these are elements just not found in other activities. The study's primary finding was the length of time studied. A second important finding, however, was that the earlier one can begin music lessons, the better. "Early age of acquisition, before age nine, predicted verbal working memory functions such as remembering and reorganizing digits in your head, consistent with early sensitive periods in brain development. Sustained musical activity in advanced age predicted other non-verbal abilities involving visuospatial judgment, suggesting it is never too late to be musically active," according to Kerry Ludlam, who reported on the findings for Emory University.
Dyce Kimura, a lifelong musician, and 10-year guitar teacher, feels strongly about reaching out to young students—of any age—and is now specifically tailoring his budding guitar instruction practice on the absolute beginner.
Dyce Kimura is a Fort Lauderdale guitar instructor and guitar teacher, providing Weston guitar lessons. Dyce is hip to all of the latest music & technology trends, breaking artists, and contemporary gear and his Weston electric guitar lessons reflect that mentality. (Before Dyce began teaching, he was a sought-after session player in Miami's studio scene, recording with scores of hip-hop, rock, blues and Christian artists—and is a nationally-recognized blues guitar authority.)
Dyce's Weston beginner guitar lessons are conducted in his state-of-the-art studio, convenient to Miami, Weston, and Fort Lauderdale. He also conducts Skype blues guitar lessons and guitar lessons for the absolute beginner, available to anyone across the globe. Interested students or parents may purchase lessons directly from Dyce.
For more information on giving the gift of Fort Lauderdale guitar lessons for your budding music lover, contact Dyce at (786) 457-3687 today.