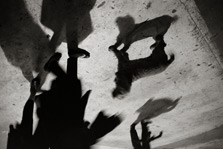 Portland, Maine (PRWEB) July 28, 2012
The University of New England Art Gallery is currently exhibiting "Upon Reflection," a presentation of photographs taken by Judy Ellis Glickman over a 35-year period. This exhibition is free and open to the public, and it will extend through September 30, 2012.
Best known among the photos on display are the powerful black and white images from "Holocaust, the Presence of the Past" and her strong portraits of "Resistance and Rescue: Denmark's Response to the Holocaust."
Well represented with other work, among a broad range of subjects, are images of Maine, exotic ones of Glickman's extensive international travel, and her latest abstract images in color.
Judy Ellis Glickman got her start as a photographer in the 70's and her early training included a workshop at Maine Media Workshops in Rockport, Maine. Her father, Irving Bennett Ellis (1902-1977), was a highly regarded pictorialist photographer in California.
The UNE Art Gallery is located on UNE's Portland Campus at 716 Stevens Avenue, Portland, Maine 04103. Art Gallery Hours are Wed–Sun 1:00–4:00 p.m. Thurs 1:00- 7:00 p.m. and by appointment.
For information and directions, visit http://www.une.edu/artgallery or contact Anne Zill at 207-221-4499 or azill(at)une(dot)edu.