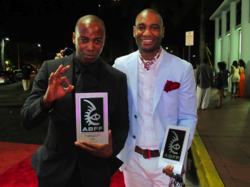 I just can't stop!
(PRWEB) July 30, 2012
Jackson has just completed is first installment, David Is Dying ('DID'), in his 'Sex And Race' trilogy. 'DID' was released on download via Jackson's new innovative web stream, SAR Movie Channel. The film will also be coming out on DVD this August with a '15' certificate.
In the meantime, Jackson is making final preparations to commence principal photography on his latest movie in the 'S&R' trilogy slate, tentatively entitled 'Sable Fable,' due to be shot this summer.
Sable Fable is a story about love, hate, hypocrisy, self-indulgence, the pursuit of fame, sex and race. It's a dark but beautiful story exploring the complex psychology of three very different couples whose lives intertwine with one another through a series of unfortunate events.
Whilst filming Sable Fable, Jackson is committed to finish filming his first documentary, under the SAR production umbrella, with the current acronym title 'FWAC'. For this project, Jackson is in the producer's seat and co directs this piece with newcomer protégé Charlie Emseis. The details of the project are somewhat "hush-hush" at the moment. It is due for release in 2013.
Jackson is also in the process of starting work on re- editing his debut 2006 feature 'Rulers And Dealers'. He has brought in a team of editors and animators to rework the whole film; replacing all the unwanted shots with animation to re-invigorate the film, giving it a new lease of life. The dark, gritty, London gangster flick is scheduled for completion in 2014.
Last but not least, Jackson has started writing the third and final installment of his sex and race trilogy. It is untitled, but will feature Jackson in front of the camera in a leading role and also taking the helm in the director's chair, behind the camera too. This project is scheduled for principal photography in winter 2014.
In a recent interview, Jackson was asked, why and how he manages pack all of it in? He simply answered: "I just can't stop!"