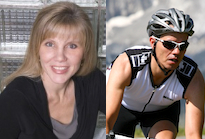 Montclair, New Jersey (PRWEB) July 27, 2012
For most Americans, summer is a time to enjoy family and friends, with time at the seashore or lake. Yet this August, Bruce Hart and Andrea Sandahlhart, a couple in a New York City suburb, of Montclair, NJ have very different plans: They will take half the month to raise money for one of their favorite charities by participating in Haute Route, a bike race in the French Alps billed as the world's longest and most difficult amateur event.
Along the seven-day trek from Geneva, Switzerland, to the French port town of Nice, Andrea and Bruce will be working hard for another, more important reason: To raise money for Ubushobozi, a vocational training charity in Rwanda that seeks to reduce poverty among its neediest women by teaching craft skills and providing a weekly stipend, health coverage, daily nutritious meals and instruction in English, mathematics, computers, health education, and traditional dance.
These unlikely circumstances reflect the Hart family's long-held interests in health, fitness and social justice.
Andrea, director and principal therapist of the new massage therapy studio Restore™, is a former ballerina who currently teaches GYROKENISIS along with managing her massage practice of seventeen years. Bruce, an attorney in Montclair, N.J., is an avid cyclist when not running his law practice or helping raise their seven-year-old son Blake-Hayden. Both have personal connections to a variety of charitable causes.
The Harts will split duties during the mountainous bike race in Europe: Bruce will compete in the event with a team of friends from the U.K., Australia, Germany, France and the United States. For her part, Andrea will volunteer sports massage services for the 700+ exhausted racers at each day's finish line along the Haute Route.
500 miles of mountain cycling
While Bruce is accustomed to 100-mile bike rides over the local hilly terrain, the Haute Route strings together seven days totaling an arduous 500 miles and 69,000 feet of climbing over Alpine mountain passes. Among the 700 riders selected to ride the race this year, will be several former cycling professionals, a team from Kenya as well as Alain Prost, a former Formula 1 champion and accomplished amateur cyclist.
"There really is no way to train properly for this event living in New Jersey," says Bruce, explaining that there are no roads comparable in length and altitude gain. "You just have to ride as many miles as you can and climb as many hills as you can find. I often ride up to Bear Mountain, about 35 miles away in Stony Point, N.Y., but mainly spend time in West Orange going up and down the short, steep hills there."
He adds that he has never tried a race anything like this before. "It's going to be a challenge," says Bruce. "Basically an act of survival. Andrea, on the other hand, has volunteered for many races, including the NYC Marathon. It is going to be an exciting experience for us while helping one of our favorite charities."
Andrea will be working with a group of volunteer massage therapists, mainly from France, and is looking forward to the different cultural exchange in bodywork techniques used for cyclists in Europe. Her experience working with athletes at Restore™ will be an asset. "We'll be doing the best we can to get the riders prepared for the next day," says Andrea, who will be using the techniques of sports massage, injury recovery and active isolation stretching to keep the cyclists peddling throughout their arduous week. "In spite of some language challenges, we will be communicating with our hands. I understand the needs of endurance athletes and look forward to working with the Haute Route team. Plus there will be a lot of Brits and Aussies in the race, so I'll be able to find out how things are going along the road."
Translating into Rwandan relief
In addition to planning and preparing for the weeklong bike race, the Hart family also decided to make the international event an opportunity to support a great cause: a nonprofit charity that supports needy women a world away – in Ruhengeri, Rwanda.
Andrea and Bruce are raising money for the Ubushobozi project after hearing about its mission and unique approach from a close friend who started the charity in mid-2008. "It's a skills-developing organization helping Rwanda women receive the basic education and training they need to help them break the cycle of poverty prevalent in their country," says Andrea.
Those that remember the massacre that occurred in Rwanda back in 1999, chillingly detailed in the movie Hotel Rwanda, will understand the circumstances now faced by young women in the country. "There are many, many worthy local charities, but this particular organization is near and dear to our hearts, and the money we can raise can go long way," says Andrea. "I encourage everyone I meet to visit their website, http://www.ubushobozi.org, to learn about the wonderful work this organization is doing. The challenges faced by Rwandan women today are enormous."
Bruce and Andrea have been supporting Ubushobozi for years, and the Haute Route cycling event seemed like a good way to attract more attention and make a much-needed infusion of funding gifts. Bruce will link his website directly to the Ubushobozi website for the duration of the race, and Andrea has added a link on the Restore™ website, below. Both have sought donations from friends and relatives, as well as cycling enthusiasts. Andrea's massage therapy center is located inside the Aspen East Fitness Center on Watchung Avenue in Montclair, N.J., where she has found likeminded donors. If you would like to support Ubushobzi with a donation, visit their website at ubushobozi.org, where you will find a link to donate directly.
A few thousand dollars can support the organization for an entire year, according to the Harts. "Our goal is to raise $5,000 locally on top of some donations from specific friends and organizations," says Bruce, whose broad-based legal practice includes international law as well as commercial and capital markets litigation.
# # #
For more information, interviews and images, please contact
Chris Sullivan at (914) 462-2096 or chris(at)ccsullivan(dot)com.
About Hart Legal Group, P.C.
Based in Montclair, N.J., Hart Legal Group is headed by Bruce G. Hart, Esq., an accomplished lawyer with broad experience in commercial and capital markets litigation, as well as securities enforcement and compliance matters. Having spent years at national law firms handling cutting-edge, complex litigation matters – and as an in-house lawyer responsible for a range of legal and compliance matters at an international hedge find – Hart brings a practical and sophisticated approach to helping clients resolve legal disputes while satisfying their business goals. Prior to founding his current practice, Hart served for four years as Director of Legal Affairs for a New York fund management firm focused on emerging markets investments. In that role, Hart, handled a range of commercial and transactional mattersfor the firm, and was the point person for the firm's regulatory compliance regime. For more information, visit LinkedIn.
About Restore™
Based in Montclair, N.J., the massage therapy center RESTORE™ was founded by Andrea Sandahlhart, LMT, a specialized massage therapist known for its personal care model and range of restorative treatments, all tailored to the individual client's needs. Located within the Aspen East Fitness Center on Watchung Avenue, RESTORE™ offers therapeutic massage for all age groups, with varying massage modalities such as Neuromuscular, Myofascial and Fascial Release, Tragger method, circulatory therapy, Shiatsu, Acupressure and others which fit into the categories better known as Swedish, Deep tissue, Sports and Medical massage. For more information, visit http://www.RestorativeTherapeuticMassage.com.
About the Ubushobozi Project
Ubushobozi is a nonprofit, vocational skills training organization founded by Jeanne Siporin, Alan Siporin and Laura Boyea in September 2008 in Ruhengeri, Rwanda. Through education and skills training (sewing, weaving, crocheting and more) Ubushobozi seeks to end the cycle of poverty our girls have experienced throughout their young lives. Neglected and vulnerable to the continued devastating effects of poverty, the girls of Ubushobozi Project have the opportunity to flourish and sustain themselves in our structured, nurturing and supportive environment. For more information or to donate, please visit http://www.ubushobozi.org to learn more about this group and its breakthrough charity model.
About the Haute Route
The Haute Route is the highest and one of the most difficult amateur bike races in Europe. Its specifications are exceptional with 720km, 17,000m of climbing and 7 stages in 7 days. La Haute Route will cross 14 legendary Alpine Cols including Madeleine, Galibier, Izoard, l'Alpe d'Huez, and Cime de la Bonnette, and will link together two international cities, Geneva and Nice. For more information, go to http://www.hauteroute.org.