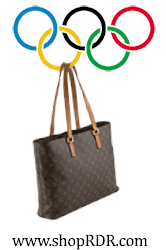 This is going to be the most fashionable Olympic Games ever.
Houston, TX (PRWEB) July 26, 2012
With Prada serving as the official sponsor of the Italian National sailing team, many upscale designers worldwide have aligned their brand with the 2012 Olympics, which begins this week in London. Today, Rodeo Drive Resale (http://www.shoprdr.com), premier reseller of authentic designer handbags and fashion, takes a look at a few more popular labels that will be worn by athletes competing in the 2012 Summer Games.
National Pride: French design house Hermes has designed France's Olympic equestrian uniforms for the 2012 Games. Now known for designer handbags including the iconic Hermes Birkin Bag, clothing and accessories, Hermes has more than one valid reason to support France's equestrian ensemble: Established in 1837, the company originated as a horse saddle and harness shop.
Sporty Style: Italian luxury brand Salvatore Ferragamo has designed the uniform for the Republic of San Marino, which holds the distinction of being the oldest surviving sovereign state in the world. Since making its debut at the 1960 Summer Games, San Marino has yet to bring home a medal, but this year may be different as they don their stylish duds courtesy of the iconic luxury company. "This is going to be the most fashionable Olympic Games ever," proclaimed fellow Italian fashion designer Giorgio Armani at the launch of his Olympics designs. Armani has made uniforms for Team Italy for the opening and closing ceremonies.
Beauty and the Block: French fashion house Chanel will also be on hand, the fashion powerhouse has opened a beauty outlet in Covent Garden's Market Building, just three days before the games begin. The pop-up store, which will offer the brand's complete fragrance and beauty lineup, is scheduled to run through the rest of 2012.
Fans of these upscale brands need not be an Olympic contender to earn winning deals on discount fashions. In fact, those looking to buy or sell authentic designer clothing and accessories can visit ShopRDR.com, where the labels above and others such as pre-owned Louis Vuitton, Yves Saint Laurent, Fendi are available at a fraction of retail costs.
Of course, no event of this magnitude would be complete without a bit of romance: Russian model Anastassia Khozissova, whose resume includes work for Chanel, Prada, Dolce & Gabbana, Giorgio Armani and Marc Jacobs, has been linked to Olympic athlete Oscar Pistorius.
Let the games begin.
ABOUT RODEO DRIVE RESALE
With over a decade of experience, Rodeo Drive Resale specializes in buying, selling, and consignment of authentic couture fashions. Buy, sell or consign favorite luxury designers such as Louis Vuitton, Chanel, Prada, Gucci, St. John Knits, David Yurman, Christian Louboutin, Tiffany & Co. and more. All items are guaranteed 100% authentic. Visit RDR online at http://www.shoprdr.com or call toll free at (888)697-3725.