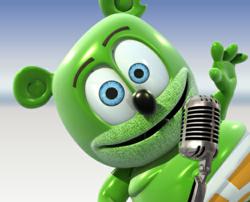 Teaneck, NJ (PRWEB) July 30, 2012
YouTube recently announced their new Partner Rewards Program in which they give recognition and rewards to partner channels that have reached the 1 million and 100 thousand subscriber milestones. Among the first YouTube partners ever to receive these rewards was Gummybear International, owners of the loveable, singing and dancing gummy bear character known as gummibär. for surpassing the 100 thousand subscribers mark.
For reaching this prestigious milestone, YouTube has rewarded Gummybear International with a $500 B&H Photo gift certificate, a custom YouTube camera bag and recognition on YouTube's Partner Rewards page. YouTube users can subscribe to the official gummibär YouTube Channel at http://youtube.com/gummybearintl.
The first Gummibär video hit the Internet in 2006 and since then the character has grown to be immensely popular around the world. Since September of 2009 when YouTube starting tracking channel statistics, the official Gummibär channel has accumulated over 780 million channel views. In addition, the gummibär videos have received over 1.76 billion total documented views and continue to accumulate views at the rate of about 2 million per day.
Gummybear International is engaged in the creation, development, and branding of animated entertainment properties, as well as musical content based on and produced for such properties. It markets and sells recorded musical and video products in various physical formats, such as compact discs and DVDs, and digital formats, such as downloads and ringtones, through a worldwide network of established distributors and licensees. The company's music publishing segment owns and acquires rights to musical compositions, markets these compositions, and receives royalties or fees for their use. It also is actively developing mobile and computer based games and exploiting merchandising rights for its brands in cooperation with a variety of licensing partners. GBI is working on a number of film and TV projects. The company is headquartered in New Jersey. See more information at http://gummybearinternational.com/.