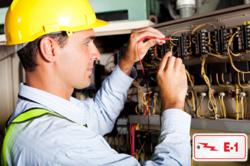 "In a number of different industries, tags that identify energy sources are crucial to complying with OSHA standards and regulations," said Rivka Fogel, Manager at MyLockoutTags. "Any business with machinery will especially benefit from these new tags."
Brooklyn, New York (PRWEB) July 27, 2012
MyLockoutTags.com, a leading online tag provider, has launched a new line of energy source identification tags to assist workers in understanding hazardous energy sources. If handled improperly, unmarked energy sources in the workplace can pose a serious threat to employees, causing serious harm or even death, especially in lockout/tagout procedures.
Energy sources carry a number of risks that most commonly affect workers who service machines and equipment. According to OSHA's website, compliance with lockout/tagout protocol prevents an estimated 50,000 injuries and 120 deaths annually. Tagout procedure requires the use of energy source identification tags to protect against potential hazards, such as electrocution, severe burns, or exposure to dangerous chemicals.
MyLockoutTags' new product line offers tags that indicate how a machine gets its energy. Each type of energy source has a tag, from electric and gas to pneumatic and hydraulic. Knowing the risks involved with the use of each energy source is important to maintaining industry safety. "In a number of different industries, tags that identify energy sources are crucial to complying with OSHA standards and regulations," said Rivka Fogel, Manager at MyLockoutTags. "Any business with machinery will especially benefit from these new tags."
All of the tags come with a graphic, code, and unique coloring that alert workers of the type of energy source used. Tags are available with and without a text explanation of the graphic. The tags each come in two different sizes.
The new tags are available in both a durable laminated adhesive vinyl and a long-lasting rigid plastic. For increased ease of use, each of the tags also comes with a pre-drilled hole large enough for a piece of wire or other means of attachment.
For more information, visit http://www.mylockouttags.com/energy-source-lockout-tags.
About MyLockoutTags.com
MyLockoutTag is the Web's leading site for safety and lockout tags. The company aims to provide products that alert workers of hazards in the workplace, especially in lockout procedures. Customers can choose from a wide variety of OSHA-complaint lockout tags that address nearly any hazard that could arise during lockout.
About SmartSign
SmartSign is one of America's fastest-growing e-commerce companies and parent of MySafetySign.com, MyLockoutTags.com, as well as more than 50 other sites. The company manufactures and distributes a wide range of signs, tags, mats, and labels. In the past, many consumers have found it hard to find, hard to design and hard to order signs with the right message. By positioning "signs as solutions," SmartSign has taken an entirely different approach. Through highly targeted, content-rich, and authoritative retail sites, the company provides specific solutions to specific problems, such as protecting a gas station. SmartSign is widely recognized for its quality construction; its signs come with a 3M® warranty and outlast fast-fading, ink-jet signs. Other SmartSign advantages include fast and free shipping, the Web's largest range of designs, and a best-price guarantee.