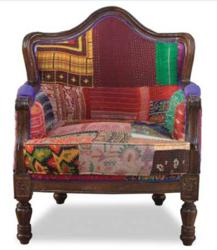 "The SoCo chair is made from 70% reclaimed materials," says Co-founder, Dhaval Lodhavia.
Austin, Texas (PRWEB) July 27, 2012
Home Trends & Design will debut three new furniture lines this week at the Las Vegas Furniture Market: the Bergman, the Avignon and the SoCo collections. Home Trends & Design is known for it's high quality, solid wood furniture. These new lines compliment the solid wood collections by adding the latest trends in upholstery and reclaimed material construction.
Hank Cravey, Co-founder and CEO of Home Trends & Design, states, "We are excited to share our unique, one of a kind items for interior designers and stylish products for retailers at the Las Vegas market."
The Bergman Collection is inspired by old world, European designs, and offers classic looks with overstuffed rolled arms and elegantly tufted upholstery. The collection focuses on sophisticated living room sofas and chairs. As with every Home Trends & Design piece, it is carefully constructed with hardwood and the nail trim is entirely done by hand.
The SoCo line, named after the popular South Congress district of Austin, Texas, will launch with one of a kind chairs that are made from reclaimed silk patterns. "The SoCo chair is made from 70% reclaimed materials including the teak wood frame and it is upholstered with reclaimed silk and other fabrics," says Co-founder, Dhaval Lodhavia, who oversees product design.
Attendees will also see a sneak preview of the Avignon collection. This line presents European-styled cabinetry, furniture and framed mirrors that feature arched molding, curved legs and a rich off-white patina inspired by the nearby Swiss Alps.
From July 30 – August 3, 2012, they will be displaying their dining, living and bedroom collections at the Las Vegas Furniture Market, Building B Booth #0155. Buyers will get the opportunity to experience the latest in current furniture designs and eco-friendly construction.
Other news:
Home Trends & Design is included in the prestigious Inc. 5000 List for 2011 and was awarded the number six spot on the Austin Business Journal's FAST 50, Central Texas' fastest-growing companies of 2010.
Home Trends & Design is one of the Founding Members of the Sustainable Furnishings Council, a group of manufacturers that promotes eco-friendly practices. Their desire to make eco-friendly products leads them to work primarily with Mango and Acacia trees for their solid wood furniture, as well as reclaimed wood from other sources. Not only does their choice of materials lead to beautiful and long-lasting furniture, meaning it won't have to be replaced as often, but it also reduces the carbon footprint involved in their manufacturing.
To learn more please visit the company website. http://www.htddirect.com/press-kit