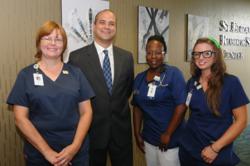 YOUNGSTOWN, Ohio (PRWEB) July 26, 2012
Humility of Mary Health Partners unveiled its new St. Elizabeth Robotic Surgery Center during a media tour this afternoon.
The new unit, on the top floor of St. Elizabeth Health Center, offers spacious, private rooms for patients recovering from a wide variety of robot-assisted surgical procedures as well as some of the best views of the city.
Renovation of the unit, which is designed to accommodate anticipated growth in the robotic surgery program, cost about $125,000 to complete. It follows a $2.5 million investment that HMHP made this spring to buy a new da Vinci surgical system for the St. Elizabeth Robotic Surgery Center and to introduce robot-assisted surgery at St. Joseph Health Center in Warren. The new robot at St. Elizabeth can be used to complete even more complex procedures.
Robot-assisted surgery is the most advanced treatment option available anywhere for patients suffering from a wide range of medical conditions. HMHP is the only health-care system in the six-county region (Mahoning, Trumbull and Columbiana counties in Ohio, and Mercer, Lawrence and Beaver counties in Pennsylvania) to offer robot-assisted surgery.
Robot-assisted surgery is a minimally invasive option to traditional "open" surgery resulting in less blood loss, less pain, less scarring and quicker recovery for patients.
St. Elizabeth Health Center introduced da Vinci robotic surgery to the Mahoning Valley in 2007. At that time, surgeons at St. Elizabeth employed the da Vinci robot to perform urological procedures such as prostatectomy. Since then, the robotic surgery program at St. Elizabeth has expanded to include a variety of urological, gynecological, general and thoracic procedures. To date, nearly 900 robot-assisted surgeries have been completed at St. Elizabeth Health Center.
During the media tour, nurses who've completed special training to better administer to the unique needs of patients recovering from robotic surgery were presented with pins designating their expertise.
About Humility of Mary Health Partners:
Humility of Mary Health Partners is an integrated health system located in the Youngstown/Warren area. It is a region of Catholic Health Partners (CHP) in Cincinnati, the largest health system in Ohio and one of the largest Catholic health systems in the United States. HMHP provides a full spectrum of health care services, including inpatient, outpatient, emergency, urgent care, home care and long-term care. Members are St. Elizabeth Health Center, St. Joseph Health Center, St. Elizabeth Boardman Health Center, HM Home Health Services, The Assumption Village, Humility House, Hospice of the Valley and Laurel Lake. Learn more about HMHP online at http://www.HMpartners.org. ###