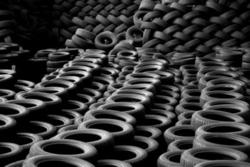 Not only does our firm employ experienced personal injury attorneys, our clients receive the expertise of our investigative team who quickly gather evidence related to client accidents.
San Antonio, TX (PRWEB) July 27, 2012
Warming temperatures and more time on the road is accompanied by risks of tire blowout accidents that are sometimes exacerbated by auto manufacturer missteps involving the safety of a vehicle's tires. Despite auto maker recommendations, some older vehicle models, especially SUV's may be outfitted with tires that cannot adequately meet the vehicles weight requirements and larger size, the Texas car accident attorneys at The Carlson Law Firm report.
While the firm notes improvements associated with technological advancements, some previous model SUV's fall victim to flawed tires, which are sometimes designed to bare a much lighter load.
"In some situations, the victims of a tire blowout accident or a rollover caused by tire failure may wonder what they could have done differently," says Carlson Law Firm, Managing Partner, Craig Carlson. "But despite the questions victims may have, some accidents may actually be tied to a flaw, defect or inadequacy in the tire recommended by some auto makers."
Understanding what may have caused an accident, especially one involving a single vehicle, can be difficult for victims acting on their own, recognizes the Texas headquartered law firm. Instead, investigative action surrounding an accident, that may have involved a defect, requires the resources and expertise of an investigative team familiar with auto defect signs and related evidence.
"Not only does our firm employ experienced personal injury attorneys, our clients receive the expertise of our investigative team who quickly gather evidence related to client accidents, providing details that answer a lot of the questions victims and their loved ones may have while helping build a solid case based on facts revealed," Carlson affirms.
The stability and safety of a vehicle's tires are imperative to the overall function as well as the protection of occupants. According to the National Highway Safety Administration (NHTSA), the safety of a tire and its functionality directly correlates with the tire's size, recommended inflation, the vehicle's capacity weight ratings and axel weight ratings.
Despite some contrary beliefs by consumers, the correct tire pressure and the recommended tire for a vehicle is determined by the auto maker, not the tire manufacturer, NHTSA says in their brochure, "Tire: Everything Rides on Safety".
"Recently, there has been an increase in the number of rollover fatalities attributed to the catastrophic loss of air in the left rear tire of medium to large sports utility vehicles," said The Carlson Law Firm's Research and Investigative Support Manager. "When this occurs, the steering capabilities become much like that of a bicycle on a flat tire, causing the vehicle to drift into the oncoming lane of traffic."
In addition to loss of control, the first reaction of many drivers is to quickly steer back into their own lane of traffic. But while regaining control may be a natural first reaction, with the loss of a rear tire, some vehicles may slide sideways before rolling over.
Although some improperly fitted tires may be recognized as the catalyst for a single vehicle accident, the design of some SUV's can leave occupants vulnerable to serious injuries caused by a rollover.
Not all manufacturer seats remain in place during an SUV rollover accident, investigators at The Carlson Law Firm report. Instead, children in seatbelts, booster seats and car seats can be ejected when the seat separates from the frame of the vehicle, which allows them to slip from beneath the seatbelt as the vehicle overturns.
In theory, tires recommended by a vehicle manufacturer are chosen based on testing, research and the needs of the car, truck or SUV; a recommendation that gains the confidence of consumers, who trust that auto makers have their safety in mind. But as important as it is for consumers to consider tire safety, including the size, pressure and tread, it's equally imperative that manufacturer recommendations coincide with the needs of heavier, larger vehicles, The Carlson Law Firm says.
While new improvements and advanced equipment allowing drivers to monitor their tire pressure have emerged, some older models of SUV's continue to experience loss of control, rollovers and serious accidents caused by tire blowouts, causing auto safety advocates at The Carlson Law Firm to continue seeking a resolution to tire defects plaguing some sport utility vehicles.
For more information about the auto product liability attorneys at The Carlson Law Firm, call 800-359-5690 or visit the firm website at http://www.carlsonattorneys.com